May to August closure of Conlin Road
April 17, 2015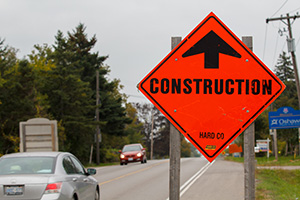 The City of Oshawa is moving forward with the final phase of the reconstruction of Conlin Road between Founders Drive and just west of Stevenson Road.
To facilitate the final stages of completion, the temporary east-west access along Conlin Road to the Simcoe Street and Stevenson Road intersection, which was opened for the winter months, will be closed starting Monday, May 4. The road is scheduled to re-open Thursday, August 20, barring unforeseen circumstances.
During the closure, local access for residents of Conlin Road will be available from Thornton Road to the west. Local access for residents of Stevenson Road will be available from Taunton Road to the south.
Please exercise caution around the construction site and obey all signage.
The City of Oshawa realizes aspects of this construction work may be disruptive; however, it advises it will make every effort to complete the project as quickly and efficiently as possible.