Ontario Tech University-based startups named to new business accelerator program
April 17, 2015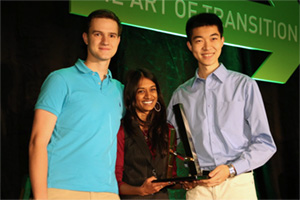 Many startup businesses struggle to get off the ground due to a lack of supportive infrastructure to help them through their most vulnerable early days. But there's good news out there for young companies: times are changing.
In a major endorsement of the Ontario Tech University's reputation as a hub of innovation and entrepreneurial activity, six new companies with ties to UOIT researchers, graduates and current students have been accepted to Spark Innovation Centre's Thrive Accelerator Program (Thrive).
Designed for technology and innovation startups in Durham Region, Thrive will help startup ventures blossom into successful, innovative companies.
Ontario Tech University-connected companies participating in Thrive:
Blancride: Blancride is a mobile application that modernizes carpooling. Incorporating GPS and smartphone technology, Blancride matches passengers and drivers to share a ride instantly.
IFTech: Innovators in wearable technology, IFTech is leading the next generation of immersive gaming. Their first product is ARAIG, a high-tech, multi-sensory gaming suit.

Creator: Brodie Stanfield, 2011 Ontario Tech University graduate (Bachelor of Information Technology) and current graduate student (Master of Science (Computer Science))
National ProStaff (NPS): Social network for anglers, brands, tournaments, and outfitters. Fishing brands are able to manage, recruit, and highlight all brand ambassadors in one place while consumers are able to make smarter buying decisions and interact with ProStaff.

NPS is the creation of three Ontario Tech University alumni who were all part of the first-ever graduating class from the Faculty of Business and Information Technology in 2007: Chief Executive Officer Dan Miguel (Commerce), President Brandon Wetzel (Commerce) and Chief Financial Officer Chris Lazarte (Accounting).
Seriously Fun Games: Aims to provide access to the incredible power of educational games. The company creates engaging and fun game-based learning experiences to enable educators to deliver their message with impact.

Founder and CEO: Matthew Stephan, 2012 Ontario Tech University graduate (Bachelor of Information Technology)
Tiko 3D: Creators of the most affordable, elegant, and easy to use 3D Printer. Tiko 3D is bringing Delta printing technology to the masses in a user-friendly, affordable desktop device.

Creators: Matt Gajkowski and Michael Zhang, Ontario Tech University Mechanical Engineering students (class of 2015).
Zambah: A web and mobile platform dedicated to exposing and promoting independent musicians to a wide variety of new fans. Independent artists can share and sell their music directly to listeners through a visually engaging, dynamic platform.

Co-Founder and Chief Technology Officer: Yasha Prikhodko, Ontario Tech University Software Engineering student (class of 2015)
Co-Founder and Chief Executive Officer: Ken Asafo, 2014 Ontario Tech University graduate (Bachelor of Health Sciences).
Ontario Tech University is also escalating its support of university-derived entrepreneurs through its new Brilliant entrepreneurial program, which is backed by the university's connections to the FastStart* entrepreneurial training partnership and the Canada Accelerator and Incubator Program** (CAIP).
"Brilliant offers University of Ontario Institute of Technology students and faculty members an opportunity to meet with and learn from entrepreneurs, potential mentors and subject matter experts in a series of talks, networking events and workshops," said Michael Owen, Vice-President, Research, Innovation and International. "The culmination of Brilliant is our first-ever summer incubator for student companies starting in May. These companies will work side by side with emerging student companies in the Thrive program at Spark Centre."
*FastStart is funded by the Campus-Linked Accelerators / On-Campus Entrepreneurship Activities (CLA/OCEA) program, an initiative of the Government of Ontario under the Youth Jobs Strategy. The CLA/OCEA program is managed by Ontario Centres of Excellence.
**CAIP is funded by the National Research Council (NRC) Canada.