UOIT researchers examining link between jobs, health and quality of life
April 27, 2015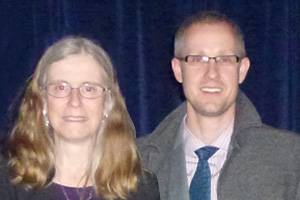 Researchers from two faculties at the University of Ontario Institute of Technology (UOIT) are collaborating on a project examining the correlation between job prospects and quality of life in Oshawa, Ontario.
Dr. Toba Bryant, Assistant Professor, Faculty of Health Sciences (FHS) is Principal Investigator on the Community Quality of Life in Oshawa project, which will examine employment, health and quality-of-life issues faced by local residents. Dr. Scott Aquanno, Lecturer, Faculty of Social Science and Humanities (FSSH), is also involved in the project.
"This research will be both timely and crucial as Oshawa faces precarious job prospects," said Dr. Bryant, referring to recent reports that General Motors could pull out of the city as early as 2016. "Oshawa had the lowest income inequality among Canadian cities in the early 1990s. The situation has changed dramatically. We want to examine community quality of life in Oshawa through the lens of employment and specifically this increasing precarity."
The project was announced at the recent Good Jobs Forum hosted by the two faculties in conjunction with UNIFOR Local 222 and the United Way Durham Region at the Regent Theatre. 
The forum brought together top labour economists, community organizers and health specialists to examine the current process of economic restructuring impacting Oshawa's economy in the context of a broader pattern of national economic transformation and change. With specific focus on the local and national labour market, the event contributed to the international dialogue on precarious work pushed forward by similar recent events.
The panelists examined the nature of good jobs within a competitive global economy and discussed the connection between innovation and economic growth. They also explored the complex health impacts of nonstandard employment and joblessness, both in local and broader contexts.
"The event was a tremendous achievement in provoking community dialogue and policy discussion on the issue of labour market transformation," said Dr. Aquanno. "It also successfully promoted awareness of the complex variables that condition prosperous and inclusive economic growth and development."
This research project ties in closely with Dr. Bryant's investigations into the social determinants of health. She has a nationally recognized track record in advocating for health and social policy change for marginalized individuals and groups. She recently co-authored an opinion piece for the Toronto Star on the connection between income level and health.
Other FHS members on the project include:
The researchers aim to build on the poverty-related work of other UOIT faculty members, including Dr. Shahid Alvi, Professor, FSSH, as well as research from Community Development Council Durham. They also want to expand on Dr. Wally and Emma Bartfay's work on the health of laid-off auto workers in Oshawa, and other research on precarious employment in Canada.
Dr. Aquanno, who has published widely on monetary policy innovation and the political economy of competitiveness, will add his expertise in economic and social policy research, inequality and social justice. "We want to understand what kind of social impact these economic changes could have on the community," he said.