Up, up and away: UOIT scientists launch balloon to the edge of space
Launch connected to Canada-wide atmospheric research experiment
April 27, 2015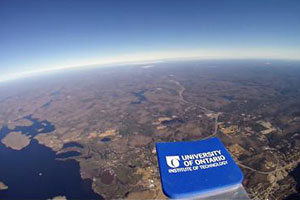 HUNTSVILLE, ONTARIO – Many scientific experiments and adventures of discovery can certainly be called 'out of this world' for the new knowledge they uncover. It's not every day though that scientists send an actual experiment off the face of the planet. But on April 25, that's exactly what a team of researchers and students from the University of Ontario Institute of Technology (UOIT) accomplished.
The goal of the UOIT Faculty of Science's Physics group was to launch a helium-filled weather balloon into the upper atmosphere, take video of the journey and record measurements such as temperature, ultraviolet light, barometric pressure and GPS along the way. The fun project is UOIT's contribution to the Canada-wide High Altitude Balloon Experiment (HABEX).
HABEX is connected to the Global Space Balloon Challenge (GSBC) which challenged people from around the world to simultaneously fly high altitude balloons in late April from every corner of the globe. A remarkable 295 teams from 47 countries registered to fly balloons.
"We looked at this as an incredible opportunity for our faculty and our students to work together on a unique international experiment," said Dr. Isaac Tamblyn, Assistant Professor of Physics. "Due to air traffic, Oshawa's proximity to airports as well as wind currents, we needed to travel more than two hours north to Huntsville, Ontario for a safe launch location. But the images we captured over Ontario's cottage country are spectacular."
The UOIT balloon soared for three hours, reaching an altitude of about 30,000 metres, well into the middle of the stratosphere. It landed about 100 kilometres to the southeast near Kawartha Highlands Provincial Park (about 50 kilometres north of Peterborough).
The public can check out the UOIT balloon data and video footage on Saturday, May 9 when UOIT teams up with Durham College to co-host Science Rendezvous 2015, a free one-day open house of experiments and fun for scientist of all ages. The national office of Science Rendezvous covered 80 per cent of the cost of each Canadian university balloon experiment.
UOIT space balloon launch team:
Angella MacEwen, Volunteer
Amber Maharaj, Graduate Student
Kyle Mills, Graduate Student
Anna Tamblyn, Volunteer
Dr. Isaac Tamblyn, Assistant Professor, Physics
Balloon recovery team
Dr. Rupinder Brar, Senior Lecturer, Physics and Astronomy
Dr. Joseph MacMillan, Senior Lecturer, Physics and Astronomy
Amber Maharaj, Graduate Student
Brady Metherall, Undergraduate Student
Kyle Mills, Graduate Student
Of course, not every science experiment goes perfectly. This flight was no exception.
"Due to some battery issues, we recorded just the first 30 minutes of the flight," explains Dr. Tamblyn. "We will learn from that. To obtain further sensor data, the group is considering a second launch in the coming days."
"The University of Ontario Institute of Technology is proud to be participating in this truly global science experiment," said Dr. Greg Crawford, Dean, UOIT Faculty of Science. "We encourage parents and kids to come out and see our weather balloon exhibit and some of the preliminary results at Science Rendezvous on Saturday May 9 from 10 a.m. to 3 p.m., which is being held at the UOIT-Durham College joint campus location in north Oshawa. It's a great opportunity to learn, see cool science and engage in a wide variety of hands-on activities designed for all ages."
Gallery
---
Media contact
Bryan Oliver
Communications and Marketing
Ontario Tech University
905.721.8668, ext 6709
289.928.3653
bryan.oliver@uoit.ca