Human trafficking researcher to speak at UOIT on May 12
May 7, 2015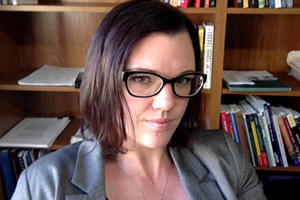 The University of Ontario Institute of Technology's (UOIT) Faculty of Social Science and Humanities (FSSH) will welcome Dr. Julie Kaye to campus on Tuesday, May 12 as part of the university's Engage Public Lecture Series.
Dr. Kaye is Director, Community Engaged Research and Assistant Professor, Sociology at The King's University in Edmonton, Alberta. In her talk, entitled Legislating sex work in Canada: Reproducing the national, racial and sexual priorities of the state through anti-trafficking discourses, she will discuss how anti-trafficking rhetoric and policy are being adopted and used to criminalize and control women's bodies.
Dr. Christopher O'Connor, Assistant Professor, FSSH, UOIT will moderate the session.
When: Tuesday, May 12 from 1 to 2 p.m.
Where: Bordessa Hall, Room 524, 55 Bond Street East, Oshawa, Ontario
The FSSH Engage Public Lecture Series aims to inspire the intellectual exchange of ideas by inviting speakers to discuss important issues impacting our community, region and the world.
Media contact:
Bryan Oliver
Communications and Marketing
University of Ontario Institute of Technology (UOIT)
905.721.8668 ext. 6709
289.928.3653
bryan.oliver@uoit.ca