Students showcase their work at UOIT's Graduate Student Research Conference
May 11, 2015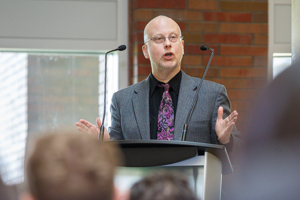 Fifty graduate students from across the province had an opportunity to hone their conference presentation skills, make connections in the world of research and learn about potential careers at the sixth-annual Graduate Student Research Conference (GSRC) hosted at the University of Ontario Institute of Technology (UOIT).
"This conference provides a chance for graduate students to practise presenting their research in a safe, low-pressure environment before they travel to the top-tier academic conferences that run all summer," said Robert Burden, Chair, GSRC. "This year we had one of the largest turnouts of non-UOIT students ever."
The conference theme, Looking back to research the future, is a reference to the 1989 movie Back to the Future Part 2, where Marty McFly (Michael J. Fox) and his girlfriend Jennifer Parker (Elisabeth Shue) travel to 2015 to help their future children.
"The theme was based on the idea of how past innovations are fuelling the progressive research for the years ahead," explained Burden. "All modern research is built upon previous work done by the giants in our fields, and we need to stand on the shoulders of these giants. Sometimes as young researchers we are so busy looking forward that we tend to forget to look back and remind ourselves of the lessons learned by those who came before us. Our goal this year was to have people reflect on where their work is grounded while presenting their ground-breaking future."
The conference featured two keynote speakers:
Syd Bolton, Curator, Personal Computer Museum, who presented Retro Technology - How the past fits with the future. Bolton brought some classic electronic and video game props and spoke about what we can learn from historic computers.
Robert J. Sawyer, Science Fiction Writer and Futurist, who is known for his many books and his ABC TV series Flash Forward. He presented a talk entitled Facing the Future, and toured several facilities on campus, including:
Participants also had a chance to attend a career panel and reception mixer.
This was Elizabeth Suen's second time participating in the GSRC. The UOIT Master of Health Sciences (Community Health) student, who was also a finalist at the university's 2015 Three Minute Thesis competition, gave a presentation about how art-making and the narrative reflective process have shaped her understanding of depression within the Chinese Canadian immigrant community.
"I feel the conference is a good opportunity to meet people and build relationships that may lead to future interprofessional and intersectoral collaborations in research," said Suen, who is slated to present her research at the Eleventh Congress of Qualitative Inquiry in Urbana-Champaign, Illinois later this month, and the 32nd-annual Qualitative Analysis Conference in London, Ontario in June.
"The feedback I received from my peers regarding the clarity and brevity of my presentation helped me prepare for these two upcoming prestigious and internationally recognized conferences in qualitative research," she said. "The scope of UOIT's Graduate Student Research Conference is very broad; the plethora of scientific diversity makes it a great place to practice presenting your work to others who may not be familiar with your research methods or areas of interest."
Lokendra Ramotar, PhD candidate in Mechanical Engineering, investigates the design of battery thermal management systems for hybrid and electric vehicles. "Participating in this conference is a great way to practice presentation skills while getting the chance to see other amazing research happening at the university," he said. "You also get the chance to network and have a fun social environment that allows you to connect with other graduate students."
Awards for best presentations in each conference track went to:
Natural Resources and Environment
1st place: Sourena Golesorkhi, PhD candidate, Nuclear Engineering
2nd place: Margarita Tzivaki, PhD candidate, Nuclear Engineering
3rd place: Alex Miller, Master of Applied Science candidate, Nuclear Engineering
Community and Health                       
1st place: Rina Wehbe, PhD candidate, Computer Science
2nd place: Padmaja Shastri, PhD, Applied Bioscience
3rd place: Martin Magill, Master of Science candidate, Modelling and Computational Science
Technology and Culture
1st place: Mohammadreza Ghavidel, PhD candidate, Materials Science
2nd place: Jesse Lacroix, Master of Science candidate, Computer Science
3rd place: Naeem Moosajee, Master of Science candidate, Computer Science