International award for adapted physical activity researcher Dr. Meghann Lloyd
UOIT researcher advancing positive early interventions for children with disabilities
June 1, 2015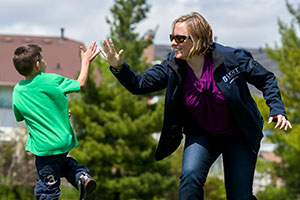 OSHAWA, ONTARIO – The International Federation of Adapted Physical Activity (IFAPA) will award one of its highest honours in June to University of Ontario Institute of Technology researcher Dr. Meghann Lloyd, Assistant Professor, Faculty of Health Sciences and Research Associate at Grandview Children's Centre in Oshawa, Ontario.
Dr. Lloyd is leading research through UOIT's Motor Behaviour and Physical Activity Laboratory to create new physical activity opportunities for people of all abilities. She will receive the IFAPA's Young Researcher Award at the 20th International Symposium on Adapted Physical Activity (ISAPA) held this year at the Zinman College for Physical Education and Sport Sciences at the Wingate Institute, Israel.
"Dr. Lloyd has consistently advanced research that is helping make a huge difference in the lives of Canadians and people all over the world," said Michael Owen, PhD, UOIT Vice-President, Research, Innovation and International. "This distinguished praise from her international peers is well-deserved and our university is exceptionally proud to acknowledge this accomplishment."
The Young Researcher Award recognizes the development of passionate enthusiasm and inspiration in young Adapted Physical Activity professionals. The goal is to encourage, recognize and support young professionals interested in physical activity for people of all abilities. Eligibility for the Young Professional Award is restricted to professionals under the age of 40.
"It is a huge honour to be awarded the 2015 IFAPA Young Researcher Award," said Dr. Lloyd. "It is incredibly humbling for the research that my students and I have been working on at UOIT to be recognized by my international peers in adapted physical activity. We work every day to improve opportunities for children and youth with disabilities to participate in and receive the health benefits of physical activity."
Related links: