New milestones and largest graduating class highlight UOIT Convocation
University to present 12,000th degree, four honorary degrees
June 2, 2015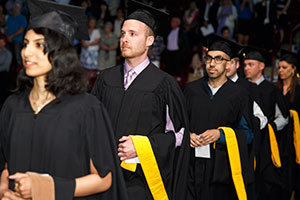 OSHAWA, ONTARIO – The University of Ontario Institute of Technology's (UOIT) largest-ever graduating class will cross the stage at Convocation 2015 on June 4 and 5.
Highlights of this year's convocation ceremonies will include the conferring of the university's first PhD in Computer Science, and the first graduate diplomas in both Nuclear Technology, and Education and Digital Technologies.
In addition to the university conferring more than 2,000 bachelor's, master's and PhD degrees, UOIT will present honorary Doctor of Laws degrees to:
"Congratulations to our 2015 graduates for their hard work and dedication, and to the honorary degree recipients for their outstanding contributions and commitment to their professions and communities," said the Honourable Perrin Beatty, UOIT Chancellor. "Every UOIT graduate is linked by a spirit of entrepreneurship and innovation, and a proven ability to be adaptable and resourceful in the approach to solving problems."
Following Convocation 2015, the university will have conferred more than 12,000 degrees in its short history.
Ceremonies can be viewed live online at uoit.ca/convocationwebcast (2015 webcast recordings will be posted later).
2015 Convocation schedule:
Thursday, June 4 – 9:30 a.m. ceremony
Faculty of Energy Systems and Nuclear Science
Faculty of Engineering and Applied Science
Doctor of Laws (honoris causa) to Mrs. Helen Vari
Thursday, June 4 – 2 p.m. ceremony
Faculty of Education
Faculty of Health Sciences
Doctor of Laws (honoris causa) to Dr. Jean Moss
Friday, June 5 – 9:30 a.m. ceremony
Faculty of Business and Information Technology
Faculty of Science
Doctor of Laws (honoris causa) to Mr. Desmond Newman   
Friday, June 5 – 2 p.m. ceremony
Faculty of Social Science and Humanities
Doctor of Laws (honoris causa) to Mr. Grantley Morris
Where:
General Motors Centre
99 Athol Street East
Oshawa, Ontario
---
Media contact
Bryan Oliver
Communications and Marketing
Ontario Tech University
905.721.8668 ext 6709
289.928.3653
bryan.oliver@uoit.ca