Dr. Lori Livingston appointed Dean of Health Sciences at UOIT
July 28, 2015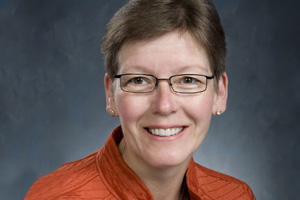 OSHAWA, ONTARIO - The University of Ontario Institute of Technology (UOIT) is pleased to announce the appointment of Dr. Lori Livingston as the new Dean of Health Sciences, effective November 1, 2015.
Dr. Livingston is a noted university administrator and scholar, whose research spans a broad range of topics including clinical biomechanics, injury prevention, physical activity, coaching and sports officiating. She joins UOIT from Lakehead University, where she serves as the Dean of Health and Behavioural Sciences and as a tenured full professor.
Dr. Livingston received her PhD in Educational Psychology from the University of Calgary in Alberta. She also earned her Master of Science in Biomechanics and a concurrent Bachelor of Arts/Bachelor of Physical Health Education (with distinction) from Queen's University in Kingston, Ontario.
Dr. Livingston is currently a director on the board of the Northern Ontario School of Medicine, and also chairs the board of the NorWest Community Health Centres. She has also served as a member of the executive of both the Canadian Council of University Physical Education and Kinesiology Administrators and the Canadian Association for Health Sciences Deans.
In tandem with her academic successes, Dr. Livingston is a former national team coach and leader in women's field lacrosse. She has contributed back to the sport through her research, which has focused on injury prevention as well as changes in crosse design to enhance lacrosse ball velocity.
Quotes
"I am very much looking forward to working with faculty, staff, students, collaborative community partners and alumni in my new role as the Dean of the Faculty of Health Sciences at the University of Ontario Institute of Technology."
-Dr. Lori Livingston
"Lori's experience as an administrator and researcher, coupled with her training as physical educator, biomechanist and statistician, make her the ideal leader of the Faculty of Health Sciences. We look forward to Lori joining us this fall.
- Dr. Deborah Saucier, Provost and Vice-President, Academic, University of Ontario Institute of Technology
-30-
About the Faculty of Health Sciences
The increasing complexity of health sciences and the health-care industry has placed a growing importance on the skills required of health-care professionals.
Faculty of Health Sciences students acquire the foundations for excellence in clinical practice along with the lifelong learning, research, teamwork and leadership skills essential for a successful career in the health field.
About the University of Ontario Institute of Technology
As one of Canada's newest research universities, the University of Ontario Institute of Technology (UOIT) advances the discovery and application of knowledge through a technology-enriched learning environment and the delivery of innovative market-driven programs responsive to the needs of students and industry. With more than 10,000 undergraduate and graduate students enrolled in 76 programs, UOIT promotes social engagement, fosters critical thinking and integrates outcomes-based learning experiences inside and outside the classroom. UOIT's commitment to accelerating economic growth and social innovation is realized through faculty research collaborations with leading organizations such as Ontario Power Generation, IBM, The Hospital for Sick Children (SickKids) and the Durham Regional Police Service. To find out more, please visit uoit.ca or follow UOIT on Twitter.
Media contact

Melissa Levy
Communications and Marketing
University of Ontario Institute of Technology
905.721.8668 ext. 6733
289.928.0268 (cell)
melissa.levy@uoit.ca