GTA commuters turning to UOIT-developed carpooling app BlancRide
July 3, 2015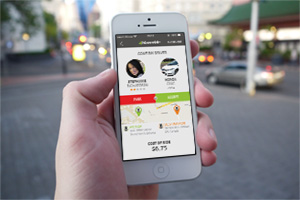 Commuters across the Greater Toronto Area (GTA) are as frustrated as ever by highway traffic congestion. 
To accommodate traffic flow during the Toronto 2015 Pan Am/Parapan Am Games, all major highways in the area now have temporary high-occupancy vehicle (HOV) lanes in effect. Use of the 'fast lane' requires each vehicle to have at least three occupants. That restriction is prompting solo motorists to search for passengers so they can use the HOV lanes.
"People want to get around faster, but co-ordinating a carpool can be very difficult," says Subhanki Sivakumar, a graduate of the Communication program at the University of Ontario Institute of Technology (UOIT). "One solution gaining popularity is BlancRide, a carpooling app developed at UOIT that helps drivers and passengers organize a carpool with a just few taps on their iPhone or Android."
Sivakumar works with the BlancRide team, a group led by Dr. Hamid Akbari, an Assistant Professor (Strategic Management) in the UOIT Faculty of Business and Information Technology.
"Only eight months after we launched BlancRide as a way to promote sustainable transportation alternatives on campus, registrations for the innovative app have exploded across the GTA," explains Dr. Akbari. "With the HOV lanes in effect on highways, BlancRide's numbers have quadrupled. Our app appears to be an ideal solution for the commuting challenges that lie ahead during the Games."
How BlancRide works
BlancRide is designed for everyone in the car to split the cost of the journey, rather than the driver making a profit.
Passengers use the app to enter a pick-up and drop-off location and indicate how flexible their schedule is.
The app geographically matches registered drivers and passengers, who agree to ride together by accepting the match and then give a rating once the ride has completed.
The average amount is based on the distance of the trip; however, rates are substantially lower then what commuters would pay for a taxi cab or Uber service because it is ride sharing, not ride hailing.
BlancRide was part of the formal FBIT incubator program. Dr. Akbari and a team of 13 UOIT students and alumni gained support for their app from the university's entrepreneurial community and UOIT's Office of Campus Infrastructure and Sustainability.
"BlancRide was introduced last fall to those with valid email accounts at UOIT and Durham College," says Dr. Akbari. "It was quickly embraced. Within three months, 10 per cent of commuting students on campus (more than 1,200) had registered with BlancRide. This suggests students at UOIT are early adopters of new technologies and are very passionate about sustainable modes of transportation."
With that measure of success under their belt, the BlancRide team recently opened the platform to all the people of Ontario who can now benefit by using the app to beat the traffic during the PanAm/ParapanAm Games and afterwards. The company has plans to release a new version of the app with a special community section for UOIT students.  
Related link