Take a unique virtual tour of UOIT at the 2015 Ontario Universities' Fair!
Learn more about UOIT's undergraduate and graduate programs
September 17, 2015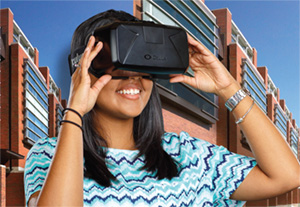 Curious about what life will be like as a student at the University of Ontario Institute of Technology (UOIT)? Come visit us at the Ontario Universities' Fair (OUF), from Friday, September 25 to Sunday, September 27 at the Metro Toronto Convention Centre in Toronto, Ontario (between 10 a.m. and 5 p.m. daily).
OUF is a free event for prospective students and their families where Ontario's 21 universities are housed in one convenient location. Drop by UOIT's booth and talk to deans, professors, students and other representatives to find out more about all of the different undergraduate and graduate programs the university has to offer.
Students visiting the university's breakout room at OUF will have the chance to virtually explore the UOIT campus using the Oculus Rift, a cutting-edge virtual reality headset. When used together with the UOIT virtual tour, the headset will allow students to 'look around' inside labs, classrooms, residence rooms, gym facilities and more, providing an incredibly immersive experience.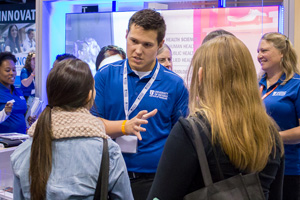 Bring lots of questions – our experts are ready to answer them. Attending OUF will give you all the information you need to help you decide that UOIT is the right fit for you!