Undergraduates present projects at 2015 Student Research Showcase
September 21, 2015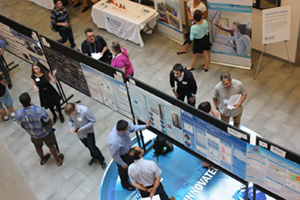 Research is an integral part of the student experience at the University of Ontario Institute of Technology (UOIT), starting in the first year of undergraduate studies. Students play key roles in research projects, from investigation and interviewing to data analysis and modelling. The 2015 Student Research Showcase, held on August 20, offered a glimpse into the world of student research at the university, providing an opportunity for undergraduate students to showcase the projects they have worked on under the supervision of faculty members throughout the year.
"Congratulations to all of the students who participated in the 2015 Undergraduate Student Research Showcase," said Michael Owen, Vice-President, Research, Innovation and International. "This annual event provides an opportunity to see the University of Ontario Institute of Technology's unique learning environment in action: students conducting research side-by-side with professors and developing the skills that will allow them to become the research leaders of tomorrow. A huge thank you goes out to all student participants, poster judges and everyone else who worked hard to ensure the success of this year's showcase."
The morning opened with guest speaker Dr. Pierre Côté, Canada Research Chair in Disability Prevention and Rehabilitation, who gave a talk entitled Invisible Disabilities and Public Health: The Elephant in the Room. In the afternoon, students presented their projects in a poster competition. Forty-two posters were featured, 34 of which belonged to Undergraduate Research Award recipients – students whose research has been funded by the Natural Sciences and Engineering Research Council of Canada (NSERC), the Canadian Institutes of Health Research (CIHR), and the university.
The posters were judged by faculty members and one Best Poster Award was presented for each faculty.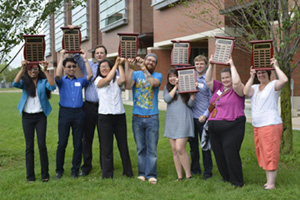 2015 Best Poster Award winners and Honourable Mentions:
Faculty of Business and Information Technology
Winner:
Christopher Bellman and Albert Fung: Studying the Feasibility of Subconscious Image Classification Using Brain-Computer Interfaces (Dr. Miguel Vargas Martin and Dr. Ramiro Liscano)
Honourable Mention:
Vitaliy Bezpalko: A Networked Queuing Game to Study Emerging Spatial Temporal Patterns (Dr. Karthik Sankaranarayanan)
Faculty of Education
Winner:
Jennifer Nelson: Examining Canadian Teachers' Codes of Conduct (Dr. Shirley van Nuland)
Faculty of Energy Systems and Nuclear Science
Winner:
Ryan Murphy-Snow: Examining the Sustainability of Ontario's Energy Use (Dr. Jennifer McKellar)
Honourable Mention:
Mudit Nijawan: Experimental Study of Materials Behaviour in High-Temperature Molten Salt Environments for Hydrogen Production (Dr. Brian Ikeda)
Faculty of Engineering and Applied Science
Winner:
Jessica Bauer: Classifier Accuracy for Detection of Electric Vehicles from Residential House Loads for Smart Meter Applications (Dr. Walid Morsi Ibrahim)
Honourable Mentions:
Thomas Lato and Nishanth L.K.: Investigation of the Flow-Sound Interaction in Automotive Pressure Release Vents (Dr. Atef Mohany)
Anders Nielsen: Heat Transfer Model for the Design Optimization of the Stirling Engine (Dr. Brendan MacDonald)
Faculty of Health Sciences
Winner:
Denise Polgar: Improving Cardiopulmonary Resuscitation Rates in the Durham Region to Enhance Sudden Cardiac Arrest Survival Outcomes (Dr. Brenda Gamble)
Honourable Mention:
Menelek Luke and Julianne Barbe: Subclinical Neck Pain Impairs Cognitive Ability which can be Improved by Chiropractic Treatment: A Four Week Longitudinal Study with a Healthy Control Group Comparison (Dr. Robert Weaver)
Faculty of Science
Winners:
Cory Falconer and Ke Ma: Creating a Standardization Variable to Assist Law Enforcement in Classification of Firearms as Either Letha or Non-Lethal (Dr. Franco Gaspari and Kimberly Nugent)
Honourable Mention:
Joshua Trolly and Elysabeth Reavell-Roy: Transformation of Physocomitrella patens with Gener for Flpe Recombinase Fused to an Estrogen Receptor (Dr. Dario Bonetta)
Faculty of Social Science and Humanities
Winner:
Rebecca Anne Bloom and Jennifer O'Connell: The Dark Side of Perspective-Taking (Dr. Matthew Shane)
The following organizations were on site to provide information to students about funding programs and the entrepreneurial opportunities available to them:
External:
National Research Council of Canada's Industrial Research Assistance Program
NSERC
Mitacs
Northumberland Community Futures Development Corporation
Spark Centre
Council of Ontario Universities' Research Matters Curiosity Shop
Internal:
Brilliant Entrepreneurship (supported by FastStart and Firefly )
International office
Office of Graduate Studies