UOIT first-year students get ready for Orientation 2015
Incoming class of more than 2,500 invited to series of transition-to-university activities
September 2, 2015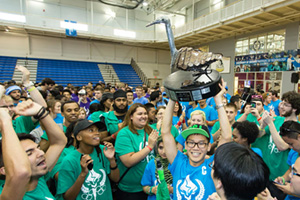 The University of Ontario Institute of Technology's (UOIT) Office of Student Life is ready to welcome more than 2,500 new students to campus as the 2015-2016 academic year gets underway.
Orientation activities on Tuesday, September 8 and Wednesday, September 9 culminate a summer-long series of programs designed for first-year students and their families, which support the successful transition of students into the university.
This year's Orientation theme is Choose Your Own Adventure. As is tradition, the theme will be heavily infused into the Wild Goose Chase – an annual friendly inter-faculty competition featuring group activities on Day 2 of Orientation (Wednesday, September 9). At the end of the day, one of the faculties is awarded the coveted trophy, Stanley the Goose.
"Orientation strives to make each new student feel welcomed to their new community and encourages them to be fully prepared for a positive start to their university career," says Lindsey Ostrosser, Program Manager, Orientation and Transition. "Our programming helps incoming students learn about academic expectations, and understand how to get involved and engage with the wider university community."
Components of UOIT Orientation:
Student Life designates 150 upper-year UOIT student volunteer Orientation leaders who have all completed two full days of job-specific training, which includes Access for Ontarians with Disabilities (AODA) training (customer service training for working with individuals with disabilities) and the Mindsight mental health awareness online training module developed by Dr. Wendy Stanyon, Associate Professor, UOIT Faculty of Health Sciences.
Ask Me program: Dozens of UOIT staff and upper-year student volunteers will be stationed in high-traffic areas on campus to answer questions and help students find their way around campus during their first few days.
The Get Involved Fair on the first day of classes (Thursday, September 10) showcases all of the student-led clubs and societies on campus.
In response to Ontario Premier Kathleen Wynne's It's Never Okay document responding to sexual assault, all students take part in First Year Me – an interactive theatrical production developed by Student Life that discusses consent, bystander intervention and sexual assault. First Year Me also explores topics such as social anxiety, drug and alcohol use, academic integrity and inclusivity.
Additional Orientation programs are provided to graduate, international, and Mature, Transfer and Pathways students.
Orientation's first phase is the iBegin program in July, where students and parents come to campus to learn about the university's programs and services, and meet with faculty and staff.  
Media contact:
Bryan Oliver
UOIT Communications and Marketing
905.721.8668 ext. 6709
289.928.3653 (cell)
bryan.oliver@uoit.ca