UOIT professor and graduate students discuss nuclear security at MIT workshop
September 21, 2015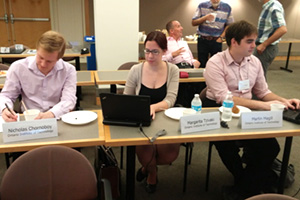 A researcher and three graduate students from the University of Ontario Institute of Technology (UOIT) had a chance to share and explore ideas related to nuclear science at a workshop that took place September 2 to 4 at the Massachusetts Institute of Technology (MIT) in Cambridge, Massachusetts.
At the workshop, entitled Nuclear Security, Alternative Technologies and Consequence Management for the Health Physicist, graduate students from UOIT and from across the United States learned about:
Radiological material management.
Security of radiological material.
Instances in which alternative technologies could be used in place of the radiological material.
The workshop included presentations, facilitated discussions, table-top exercises and case studies evaluated and presented by the students.
Dr. Edward Waller, Acting Dean and Professor, Faculty of Energy Systems and Nuclear Science (FESNS) was one of the workshop's key presenters and facilitators. He lectured on:
The role of the health physicist in nuclear security.
Threat assessment and the design basis threat.
Physical protection system design and evaluation.
The interface between nuclear safety and nuclear security. 
FESNS provides courses and training in nuclear security. UOIT is the founding Canadian member of the International Nuclear Security Education Network (INSEN), which is sponsored by the International Atomic Energy Agency (IAEA). The mission of INSEN is to enhance global nuclear security by developing, sharing and promoting excellence in nuclear security education.