Going Global: UOIT develops a plan to engage the world
University of Ontario Institute of Technology builds international capacity through strategic approach
October 13, 2015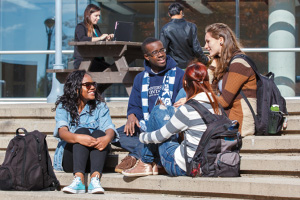 As Canada's first purpose-built, publicly funded university founded after the turn of the millennium, the University of Ontario Institute of Technology (UOIT) was born into a globalized world.
Ideas know no borders and, as such, universities are at the forefront of building global communities. As UOIT continues to grow, the university is playing an ever-increasing role in global engagement.
It is in this spirit that UOIT announces its refreshed International Plan, a document that galvanizes all of its current activities in the global educational community and establishes four strategic directions for further internationalization opportunities.
"Our university is a degree destination for students from the around the world, and at the same time we are creating amazing opportunities for University of Ontario Institute of Technology students to graduate with a global learning experience," said Michael Owen, PhD, UOIT Vice-President, Research, Innovation and International. "Our International Plan aligns with our university-wide priorities to prepare graduates to succeed and underscores our desire to greatly increase student and faculty mobility around the world."
Strategic directions of the UOIT International Plan:
Set the on-campus student experience as a foundation of our internationalization efforts.
Create opportunities for our students to graduate with a global learning experience.
Build our strength in research through expanded international collaboration.
Enhance our institutional capacity for global engagement.
"Our vision builds upon the guidance of the university's Strategic Plan," said Owen. "For this shared vision to be a success, our students, faculty and staff will all play a role in our international engagement, and that success will occur within the context of the many challenges and opportunities we will face over the coming years."
UOIT International by the numbers:
UOIT has a student exchange agreement with partner universities in 21 countries
UOIT has a formal partnership with 45 educational and research institutions around the world
UOIT faculty members hosted 75 international research visits in the 2014-2015 academic year 
---
Media contact
Bryan Oliver
Communications and Marketing
Ontario Tech University
905.721.8668 ext. 6709
289.928.3653 (cell)
bryan.oliver@uoit.ca