Ontario Tech University-based health informatics research pushing new frontiers in critical care
Dr. Carolyn McGregor's Artemis Project gains new ties to ORION and Southlake Regional Health Centre
October 20, 2015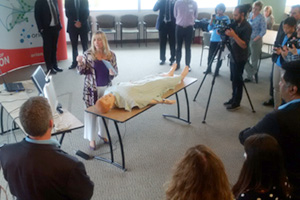 Since arriving at the Ontario Tech University in 2007, Dr. Carolyn McGregor, Canada Research Chair in Health Informatics has been the driving force behind the Artemis Project – innovative research that applies real-time online Big Data analytics and data mining principles to help reduce mortality rates in premature babies.
Over the years, Dr. McGregor has assembled a powerful group of research, health-care and funding partners from across Canada and around the world, including IBM and The Hospital for Sick Children, to name just a few.
On October 9, Artemis began writing another new chapter with the announcement of a new connection with Southlake Regional Health Centre (Southlake) in Newmarket, Ontario, through Artemis' partnership with the Ontario Research and Innovation Optical Network (ORION).
This new partnership builds on Dr. McGregor's strategic partnership with the Southern Ontario Smart Computing Innovation Platform (SOSCIP) which is providing the cloud computing environment that enables Artemis to run in the cloud from the High Performance Computing Virtual Laboratory (HPCVL) at Queen's University in Kingston, Ontario.
"The connection of Artemis to ORION and Southlake is the next step in our ability to show that advanced and complex analysis of physiological data can be provided remotely to give doctors new diagnostic tools at the beside," said Dr. McGregor, Professor, UOIT Faculty of Business and Information Technology. "Many babies are born premature or ill at term in rural and remote communities and we need to demonstrate cost-effective ways to enable these babies to be monitored remotely."
As Southlake announced installation of its new Point-of-Presence (PoP) access point to ORION, the Artemis Project was hailed a prime example of how digital infrastructure and streaming analytics in the cloud is becoming the new face of health care. To date, more than 1,000 babies have been monitored through Artemis.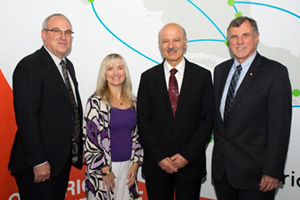 "The high quality of the ORION network infrastructure is very important when performing research for new approaches to critical care," said Dr. McGregor. "It is vital that the new computing tools that we provide are available without interruption 24/7 as we will be continuously streaming physiological data across it and returning new forms of information for doctors to use. This can be at risk when computing services are provided offsite through a cloud."
On the horizon for the Artemis Project
Artemis in space: Dr. McGregor's research team is advancing research that demonstrates how to apply the Artemis platform to monitor the health of astronauts and cosmonauts on the International Space Station and develop computer systems and strategies for the provision of immediate medical assistance on NASA's proposed 2030 Mission to Mars. 
The Athena Project extends Artemis to monitor not just physiological data but also data from a first-person shooter serious game (ArmA3). Athena extends to a new haptic (touch) garment called ARAIG created by Oshawa, Ontario tech startup company IFTech Inventing Future Technology Inc.
The Apollo Project advances research to take Artemis out of the hospital and into the home for new approaches to everyday health and wellness. Apollo can monitor babies who were previously in neonatal intensive care units but are now living at home.
About the project names associated with Greek mythology
Artemis: goddess of childbearing
Apollo: god of healing
Athena: goddess of warfare and wisdom
About ORION
As Ontario's backbone of innovation, the Ontario Research and Innovation Optical Network (ORION) is one of the largest Research, Education and Innovation (RE&I) networks in the world. We connect all of Ontario's universities, most colleges, several teaching hospitals, public research facilities, and a growing number of Ontario's school boards to one another and to a global network of RE&I connections. In addition to providing one of the world's fastest broadband connections, we are a research and innovation partner for our members. Through our technology and support, ORION constantly strives to keep Ontario on the leading edge of innovation.
Media contact:
Bryan Oliver
Communications and Marketing
Ontario Tech University905.721.8668 ext. 6709
289.928.3653 (cell)
bryan.oliver@ontariotechu.ca