UOIT celebrates Indigenous Awareness Week
October 13, 2015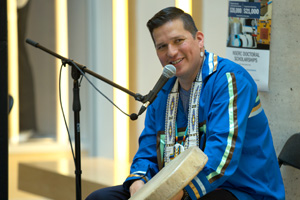 In support of diversity on campus, the University of Ontario Institute of Technology's (UOIT) Indigenous Student Services team hosted the university's second-annual Indigenous Awareness Week from September 28 to October 2.
"Indigenous Awareness Week is a great opportunity for the University of Ontario Institute of Technology community to come together to learn more about Indigenous culture," said Jill Treen, Student Development Specialist – Indigenous Programming. "We are especially proud that the event was entirely planned by students as a way of promoting inclusivity on campus. Miigwetch - thank you in Ojibwe - to everyone who supported this initiative!"
The Welcoming Celebration on September 28 featured Eddy Robison, Owner of Morningstar River, a business that offers Aboriginal education and cultural workshops. Students, staff and faculty enjoyed traditional Indigenous drumming, dancing and a corn roast.
Throughout the rest of the week, more than 400 participants had an opportunity to try traditional Indigenous food and experience the culture through several workshops and events held at the UOIT-Baagwating Indigenous Student Centre. At the workshops, participants learned how to:
Create a dream catcher.
Learn traditional beading techniques.
Make a pair of moccasins.
Gallery