3D printing now available at North Oshawa Library
November 6, 2015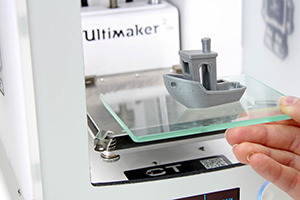 The Campus Libraries have recently acquired an Ultimaker 2 printer for the North Oshawa Library to assist students, faculty and staff with prototyping designs, creating educational aids, designing objects for thesis/capstone projects, and other academic activities.
3D printing was previously available as a pilot project during the 2014-2015 academic year at the Education Library.

Library staff will be available to provide one-on-one consultations with those who are new to 3D printing. They will:
Provide guidance on software use and best practices.
Offer tips for making the most of your print.
Answer design or technical questions.
Please note: Library staff will not be able to assist users in the creation of their design.
To find out more about the 3D printing service, including guidelines, request forms, recommended software and frequently asked questions, check out the Library's 3D printing guide.