Area high school students gearing up for the 2015 Ontario Tech University Robotics Competition
Event is one of the university's longest-running traditions
November 13, 2015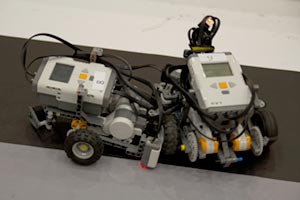 Hundreds of future engineering students from high school and middle school students across South Central Ontario will put their robot creations to the test on Saturday, November 28 during the Engineering Robotics Competition at Ontario Tech University.
Organized for the tenth consecutive year by Ontario Tech University's Faculty of Engineering and Applied Science (FEAS), the Ontario Tech University Robotics Competition involves dozens of teams of aspiring young scientists and engineers who combine their knowledge to program robots which will challenge each other in 'SumoBot' competitions.
Nearly 60 teams will gather for the November 28 showdown in the triple gymnasium of the Campus Recreation and Wellness Centre gymnasium (up from 40 teams in 2014). Some of the teams will come to Ontario Tech University from as far away as Bracebridge and Barrie.
"The robots will compete eight at a time on an octagonal SumoBot table, with points being awarded for robots surviving longest on the table," said chief organizer Dr. Mikael Eklund, Associate Professor, Department of Electrical, Computer and Software Engineering, Ontario Tech University. "Schools also get points for taking out other teams' SumoBots, and for a Design Report they have to submit a week before the competition."
Participants have been building their autonomous robots using LEGO Mindstorm NXT and EV3 system kits during a series of fall weekend workshops and tutorials hosted by the Faculty of Engineering and Applied Science.
The public and the media are welcome to attend the showdown and cheer on the students as they demonstrate their developing engineering skills.
What:
2015 Ontario Tech University Engineering Robotics Competition
When:
Saturday, November 28, 2015
11:30 a.m. – Opening Ceremony
Noon – Competition begins
3:45 p.m. (approx.) – Final round races
4:30 p.m. – Awards presentation
Where:
Ontario Tech University
Campus Recreation and Wellness Centre, gyms 3, 4 and 5
2000 Simcoe Street North
Oshawa, Ontario
Parking:
Enter off of Conlin Road or Simcoe Street and proceed to the Champions parking lot.
Media contact:
Bryan Oliver
Communications and Marketing
University of Ontario Institute of Technology (UOIT)
905.721.8668 ext. 6709
bryan.oliver@ontariotechu.ca