Leading in the field: UOIT's Management Development Centre introduces innovative agricultural leadership program
Certificate developed in consultation with leaders in area municipalities
November 3, 2015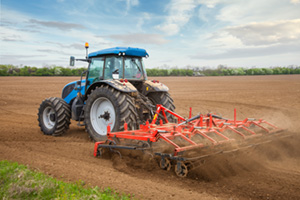 OSHAWA, ONTARIO – Given the expansion of urban development and disappearance of farmland across portions of the Greater Toronto Area (GTA) in recent decades, it is easy to lose sight of the economic importance of agriculture and the agri-food businesses in Ontario's economy.
In 2012, the report Planscape, Food and Farming, An Action Plan 2021 (GTA Agricultural Action Committee) reported that the estimated annual economic impact of agriculture and food processing in the four regions of the GTA included:
Total output: $35 billion
Contribution to GDP: $16 billion
Labour income: $7 billion
In support of the growing need for agricultural expertise in the province, the University of Ontario Institute of Technology's (UOIT) Management Development Centre (MDC) is pleased to announce its new Agricultural Leadership Certificate Program. Registration is now open and classes will begin in January 2016.
"Our unique program has been proudly developed in collaboration with various economic development initiatives and agricultural partners in the Region of Durham, Municipality of Clarington, Northumberland County, Peterborough County and the City of Kawartha Lakes," says Stephen Rose, Director, MDC and Associate Dean, Faculty of Business and Information Technology (FBIT), UOIT. "Whether they are owners, partners or responsible for the operational or day-to-day functions of an agri-business, program participants will immediately be successful and prepared advocates for the agriculture industry,"
The Agricultural Leadership Certificate Program consists of five highly interactive workshops that provide a strong foundation in the areas of:
communication
human resources
leadership style and management strategies
marketing and advocacy
change and implementation of strategies for an agricultural business
Participants will network as they share stories of their career experiences and challenges.
Agricultural sector experts with extensive experience will serve as course facilitators and instructors. This program will run each year from January to March.
Who should enrol?
This certificate will provide tools and techniques to use immediately within an agricultural business. The program is ideal for those seeking to develop leadership potential and business communication skills.
Registration is restricted to those who work specifically within the agricultural sector (such as farm managers/owners, supervisors, business development managers, etc.).
Join the growing list of MDC graduates!
For more information, please contact:
Betty Khattab, Program Co-ordinator
Management Development Centre
University of Ontario Institute of Technology
905.721.8668 ext. 3290
mdc@uoit.ca
Agriculture is a huge industry with many evolving sectors and specializations. According to the 2013-2018 Region of Durham Agriculture Strategy, the food and farming cluster in the GTA is the second largest in North America and has tremendous potential for growth.
One does not necessarily have to be a farmer to have a career in agriculture. In fact, agriculture is the largest employment sector in many local municipalities. More than 1,400 farm families in Durham Region alone derive income from their farm operations.
 "It is our goal to develop a highly skilled and innovative workforce, thereby improving viability and profitability of agriculture in Durham, encouraging succession of farms, and attracting more young people to a career in agriculture."
-2013-2018 Region of Durham Agricultural Strategy
About the MDC at University of Ontario Institute of Technology
The Agricultural Leadership Certificate Program aligns with the UOIT's strategic mission to develop academic and research collaborations with industry and the community that stimulate and enhance the region and university at home and abroad.
Over the past decade, the MDC at UOIT has presented many professional development certificates, professional workshops and conferences in a wide range of programs to working civic leaders from across the GTA, including:
Certificate in Leadership Excellence
Customer Service and Presentation Skills workshops
Lean Management
Management Development series of half-day workshops
Master's Certificate in Public Sector Management
Not-for-Profit Management Certificate
Professional Communications Certificate
Professional Management Certificate
Project Management
MDC is accredited by many associations and governing bodies, including:
Association of Ontario Road Supervisors
Canadian Institute of Management
Chartered Professional Accountants of Ontario
Human Resources Professionals Association
Registered Insurance Brokers of Ontario
Registered Public Accountants Association of Ontario