Start here: UOIT blending entrepreneurship into the student experience
University nurturing an industry-relevant culture of innovation
November 2, 2015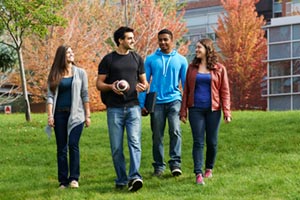 In today's unpredictable workplace, university graduates need adaptability, vision and intellectual savvy. Many students are combining their creativity and passion for discovery with a willingness to be their own bosses – to be 'entrepreneurs'.
As one of Canada's newest and fastest-growing research universities, the University of Ontario Institute of Technology (UOIT) recognizes the new reality faced by students. UOIT is driving innovation by supporting students who want to make an impact today and shape their futures through Brilliant Entrepreneurship.
As part of Global Entrepreneurship Week UOIT will hold a series of special events the week of November 16.to promote Brilliant (watch for further details soon).
"Many of our students and graduates are full of optimism and have great ideas for a startup business, but they need some help to get their concept off the ground," said David Pamenter, Executive-in-Residence, UOIT. "You don't have to be a scientist, technology-specialist or business person to live your life with an entrepreneurial mindset. Brilliant Entrepreneurship helps UOIT students and aspiring entrepreneurs see the world through the eyes of an entrepreneur."
Brilliant Entrepreneurship provides students with the support and connections they need along every step of the business startup development continuum: 
Idea generation and concept development
Business development and identification of market needs through student teams, course work, hands-on training, real-world mentorship and community resources
Prototype design and development
Encouraging the cross-pollination of diverse perspectives transforming nascent ideas into viable business concepts.
"Our regular activities such as pitch competitions, workshops and bootcamps provide tools, insights and confidence for aspiring entrepreneurs," said Pamenter. "Brilliant Entrepreneurship supports the next generation to not only imagine a better world, but to make it happen."
Brilliant Entrepreneurship has already proven to be a huge catalyst for success for undergraduates, graduate students and UOIT alumni:
Turnkey Aquaponics Inc. – UOIT undergraduates design, manufacture and install affordable and scalable turnkey aquaponics systems for rural and industrial applications.
iApotheca Healthcare Inc. – 2015 UOIT alumnus becomes the first UOIT student to appear on CBC Television's Next Gen Den. Spencer Turbitt successfully pitches iApotheca the pharmaceutical software start-up of which he is the CEO.
Coqui 3D – UOIT graduate student's product SurgerySim VR, an augmented and virtual reality training solution for surgeons, attracted a $30,000 investment and $2,500 for skills training from the Northumberland Community Futures Development Corporation's N1M program.
We invite students, faculty, alumni and sponsors to get involved with Brilliant. Helping shape how UOIT students approach the future ultimately shapes the future for all of us.
Visit the UOIT Brilliant Entrepreneurship Scorecard to see our successes.