Class action: UOIT students support charitable cause
Special in-class donation of hair will help disadvantaged children
December 18, 2015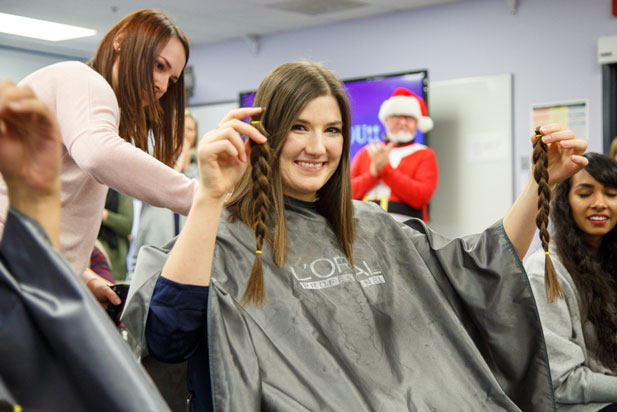 The Fall semester ended on a very special note for students in the University of Ontario Institute of Technology's (UOIT) Faculty of Education.
In the spirit of the holiday season, Melissa Campbell and Christelle Chartier initiated a fundraising event in recent weeks in support of Angel Hair for Kids. The foundation provides wigs and hair loss solutions to financially disadvantaged Canadian children who have lost their hair due to a medical condition or treatment.
Campbell, Chartier and classmates return to the university from their teaching practicum placements for a one-day debrief with faculty on December 16. At that time, Chartier and volunteer classmates Ariel Dookheran and Navpreet Pannu took a few moments to cut their hair to donate to this worthy cause. 
"It was an incredibly rewarding moment to come together with my fellow teacher candidates and support such a deserving cause," said Chartier. "I'm grateful to be in a program with so many good-hearted individuals who share a love of education and supporting children in need. I look forward to joining with my future teachers in the new year and continuing to find ways that we can make a difference, because one act of kindness causes a ripple effect."
"The philanthropic efforts of our Bachelor of Education students have been simply amazing," said Dr. Diana Petrarca, Assistant Professor, UOIT Faculty of Education. "In spite of an extremely heavy workload, our students have consistently gone out of their way during first semester to support several groups and needs. They certainly embody the socially responsible educational leaders our faculty endeavours to nurture." 
Gallery