Toronto Raptors' GM Masai Ujiri visits UOIT
Ujiri is the latest participant in the university's Distinguished Speaker Series
December 3, 2015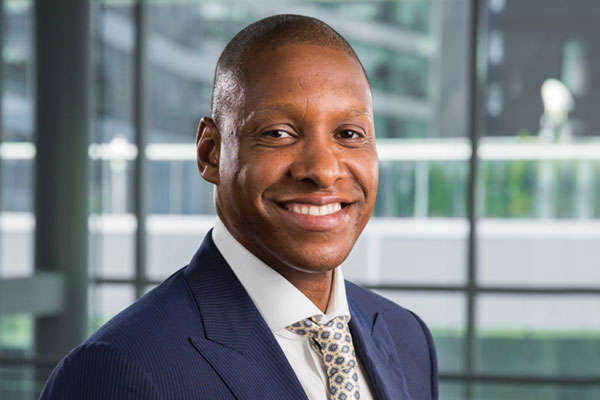 There was no court. No players. Nor a net to shoot some hoops. But there was lots of basketball excitement at the University of Ontario Institute of Technology's (UOIT) Regent Theatre on November 26.
Make no mistake: there is plenty of buzz in Toronto's professional sports scene these days about the rising fortunes of the Raptors – Toronto's 21-year old franchise in the National Basketball Association (NBA). And that buzz came to UOIT as Raptors' General Manager (GM) Masai Ujiri took some time out of his busy schedule to visit the university and chat with hundreds of students and fans as part of the Faculty of Business and Information Technology's (FBIT) Distinguished Speaker Series (DSS).
"The energy and atmosphere inside the Regent was remarkable as we welcomed Masai Ujiri to Oshawa," says William Thurber, Lecturer, FBIT and DSS organizer. "He shared the remarkable story of his journey from being a young basketball player in Nigeria to becoming the first African-born general manager of a major North American professional sports team."
Selected links to media coverage:
In his late teens, Ujiri emigrated to the United States to briefly play college basketball. He did not succeed in making it to the NBA, but he played professionally for six years in Europe. He told the UOIT audience how he came to terms with his limited ability to play basketball, and then turned to scouting and management opportunities.
Ujiri was the Raptors' Director of Global Scouting prior to becoming the team's Assistant GM in 2008. Two years later he took an executive position with the Denver Nuggets where he became the team's GM. He was named the 2013 NBA Executive of the Year. That same spring he returned to Toronto, signing a five-year contract to as the Raptors' new GM.
"Ujiri clearly wants to bring a winning culture to the Toronto Raptors, but he has also never forgotten his roots," says Thurber. "He spoke passionately about how he gives back to his native region through the Basketball without Borders Africa program which promotes the sport across the continent, as well as his basketball camp initiative Giants of Africa."
Ujuri has also been influential in Toronto's successful bid to host the 2016 NBA All-Star Weekend from February 12 to 14. The league's 65th annual All-Star Game will be played Sunday, February 14 at the Air Canada Centre.
About the Distinguished Speaker Series
Driven by the university's Faculty of Business and Information Technology, the Distinguished Speaker Series at UOIT presents a variety of renowned leaders who inspire a discussion of key issues, while sharing personal insights aimed at bringing together students, business people and community neighbours. Previous participants in the series include:
Former Ontario Premier and TORONTO 2015 Pan Am/Parapan Am Games Chair David Peterson
Toronto International Film Festival Co-Founder Bill Marshall
Steam Whistle Brewing CEO Greg Taylor
Porter Airlines President and CEO Robert Deluce
Social media links: