UOIT's powerful connection to the national Women in Nuclear conference
December 18, 2015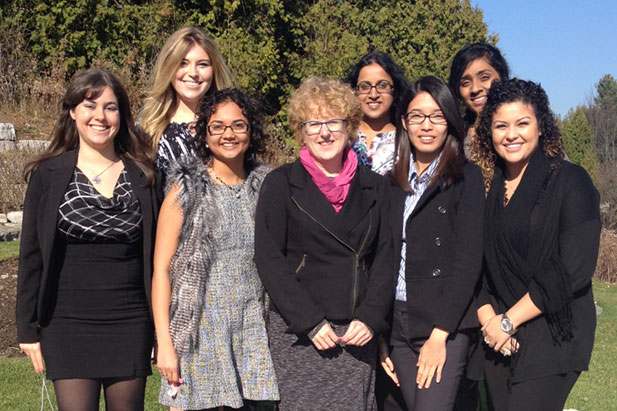 As one of Canada's newest and fastest-growing research universities, the University of Ontario Institute of Technology (UOIT) is strongly committed to promoting educational and career opportunities for women in science and engineering.
The university was proud to participate November 8 to 10 in the 12th annual Women in Nuclear Canada (WiN Canada) national conference.
Current students and recent graduates of UOIT Faculty of Energy Systems and Nuclear Science programs in Nuclear Engineering and Management, Health Physics and Radiation, and Energy Systems took part in a series of information sessions, panel discussions and keynotes at the Deer Creek Golf and Banquet Facility in Ajax, Ontario. Sponsored and hosted by Ontario Power Generation, this year's conference theme was Linking the Nuclear Family: Past, Present and Future.
"It is important for young women to learn from the successful and experienced women of the industry," said Miral Chauhan, a 2015 UOIT graduate of the Nuclear Engineering program, now an Engineering Trainee with Ontario Power Generation. "Receiving mentorship or being a mentor helps women to progress in the engineering, science, math, technology and trades fields. The annual national WiN conference provides this opportunity."
Conference participants also had the option of taking part in a number of area tours, including UOIT's leading-edge nuclear labs in the Energy Systems and Nuclear Science Research Centre, as well as ACE – the university's unique research, and testing facility that offers climatic, structural durability and lifecycle testing, and houses one of the largest and most sophisticated climatic wind tunnels on the planet. ACE's clients use these unique climate chambers to test automotive and aerospace products, to improve the performance of elite athletes and to provide services to many other sectors, including the Unmanned Aerial Vehicle industry, film and television, and motorsports. 
About WiN-Canada
WiN-Canada was formed in early 2004 and has been working to support the objectives of WiN-Global and emphasize and support the role that women can and do have in addressing the general public's concerns about nuclear energy and the application of radiation and nuclear technology. WiN-Canada also works to provide an opportunity for women to succeed in the industry through initiatives such as mentoring, networking, and personal development opportunities.

Globally, the goal of WiN is to make the public aware, especially women, of the benefits of nuclear and radiation applications and of the safety that ensures protection of the public and the environment.