New Canada Research Chairs expand UOIT's research expertise
University awarded new research chairs in education and electrical engineering
February 9, 2016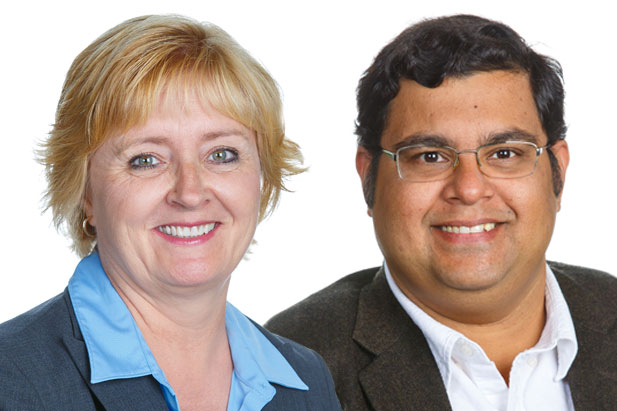 The University of Ontario Institute of Technology's (UOIT) strengthening research portfolio is growing again with the awarding of the university's newest Canada Research Chairs (CRC).
Joining the university's list of faculty recognized by the CRC program as being leading national experts in their area of research:
Funding for each CRC is valued at $500,000 over five years.
Canada Research Chair in Technology and Pedagogy
Janette Hughes, PhD, will investigate uses of emerging digital media and interactive tools that challenge traditional curricular and teaching/learning assumptions and practices. Her classroom and lab-based research will focus on the development and evaluation of pedagogical (teaching) practices that support active student learning, address the digital literacy needs of marginalized students and promote greater interest in science, technology, engineering and mathematics (STEM) through the Arts (STEAM).
"Today's learners live in a burgeoning world of new digital media - smart phones, tablets, fitness bands, watches and traditional laptop and desktop computers. The debate in the education community has moved well beyond whether digital media should be infused into learning. Rather, we need to explore how digital media can best enhance student learning."
-Janette Hughes, PhD, Canada Research Chair in Technology and Pedagogy
Canada Research Chair in Electric Energy Storage Systems for Transportation Electrification
Sheldon S. Williamson, PhD, will explore a number of promising interdisciplinary areas related to electric energy storage systems and charging technologies for future electric transportation vehicles and systems. He and his research group are world leaders in the design and development of smart power electronic converter solutions for electric vehicle (EV) battery energy storage systems/energy management, fast plugged/wireless charging technologies, and high voltage management for ultracapacitor-powered mass transit vehicles, such as electric buses, trains and trams.
"We've used electricity for mass transportation for decades with streetcars and subways. My research group deals with novel energy storage systems and fast charging infrastructures for mass transit as well as commercial electric vehicles. Specifically, our group is looking at increasing cycle lifetime and driving range of Lithium-ion battery-powered electric vehicles as well as high-power ultracapacitor solutions for electric mass transit vehicles. Our research also focuses on efficient solutions for plugged and wireless rapid charging infrastructures, integrated with renewable energy sources and the smart electric grid."
-Sheldon S. Williamson, PhD, Canada Research Chair in Electric Energy Storage Systems for Transportation Electrification
These Canada Research Chair appointments increase the University of Ontario Institute of Technology's capacity to conduct research on social, scientific and engineering issues of importance to Ontario, Canada and the world. These nationally ranked researchers show how the university is meeting society's grand challenges."  
-Michael Owen, PhD, Vice-President, Research, Innovation and International
"I'd like to extend my sincere congratulations to the latest new and renewed Canada Research Chairs. The Government of Canada is proud to support these elite researchers who improve our depth of knowledge, strengthen Canada's international competitiveness, and help train the next generation of our highly skilled workforce."
-The Honourable Kirsty Duncan, Minister of Science
"I am thrilled at the announcement of two new Canada Research Chairs at UOIT. This funding recognizes UOIT's commitment to cutting-edge research to benefit our province, Canada and the world."
-Celina Caesar-Chavannes, Member of Parliament for Whitby 
University's Canada Research Chairs
The university has four additional CRCs in development.
About the Canada Research Chairs program
Created in 2000, the Canada Research Chairs Program invests approximately $265 million per year to attract and retain some of the world's most accomplished and promising minds. Nearly 1,700 Canada Research Chair holders are working at over 70 postsecondary institutions across the country in a wide range of fields. Chairholders aim to achieve research excellence in engineering and the natural sciences, health sciences, humanities, and social sciences. Website: chairs-chaires.gc.ca
Media contact:
Bryan Oliver
Communications and Marketing
University of Ontario institute of Technology
905.721.8668 ext. 6709
289.928.3653 (cell)
bryan.oliver@uoit.ca