UOIT Science Café blends tremendous learning elements
February 2, 2016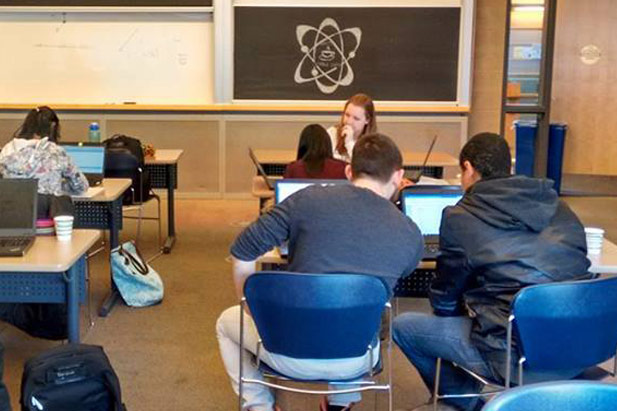 The old adage suggests 'there is strength in numbers'. Dozens of Faculty of Science students at the University of Ontario Institute of Technology would be among the first to agree.
The Faculty of Science began an academic experiment of sorts in January – the Saturday Science Café. The weekend drop-in learning environment complements the array of other academic supports on campus, like tutorials, office hours, tutoring services and the Peer-Assisted Study Sessions (PASS) program.
"The busy cadence of the academic cycle doesn't always allow for opportunities to interact like this, so we hope the Science Café will be a welcome addition." says Dr. Sean Forrester, Associate Professor (Biology), UOIT Faculty of Science. "What makes the Café special is the informal environment where students can collaborate on course material, work on assignments, and learn from each other or from upper-year mentors."
The first Café brought together more than 30 students who were able to get assistance in biology, chemistry, physics and mathematics.
"Our first Café exceeded all expectations – we had a great turnout, and I was happy to see students from various programs and year levels taking advantage of this resource," says student mentor Lidya Salim. "I am very excited to be part of this innovative project. We are expanding our Science community, and I cannot wait to see how it progresses."
The Café is ideal for UOIT students who commute or have employment commitments on weeknights and find that seeking extra assistance for course material during the week can be difficult. 
"It was very cool to see students from all UOIT's different science majors helping one another out," says student mentor Eryn Frawley. "We had students come who wanted help with homework, wanted to work on projects with friends, or just wanted to meet people in their faculty in a relaxed setting. It was such a positive atmosphere, and I think all the students who came out really benefitted."
The Café takes place each Saturday from 10 a.m. to 2 p.m. in the Science Building, Room 3230.
Science Café student testimonials
"I thought it was a great way for students to interact with one another in a comfortable, collaborative environment. The upper-year students were extremely helpful in assisting younger students with any of their work, whether it was labs or just course material. I would recommend this program to all science students looking to either get to know other science students or get help with their studies."
-Courtney Francis – Life Sciences (class of 2018)
"Coming to the Science Café as a third-year student was a really cool experience. I got to watch younger science students get their questions answered, listen to upper year science students 'talk shop' and have a place to talk to my fellow classmates about assignments and course work. It was more than a tutoring session and better than a study room. It was a room full of science students working and interacting together which simultaneously created a relaxed environment where any and all science students could be their 'nerdy' selves."
-Emma-Mary Blackwood – Life Sciences (class of 2017)
"Science Cafe is the perfect atmosphere to get the most out of your studies. I was able to collaborate with my peers and get a lot of work done. It was very inspiring to be in a room full of developing scientists."
-Cameron Isaacs-Trepanier – Life Sciences (class of 2017)
The Faculty of Science will gather feedback from students throughout the term to help shape the evolution of the Saturday Science Café.
For more information about the Saturday Science Café, please contact Dr. Sean Forrester at 905.721.8668, ext. 2937.