Another year, another success for the Roger Anderson Charity Classic; annual event raises $327,000
June 10, 2016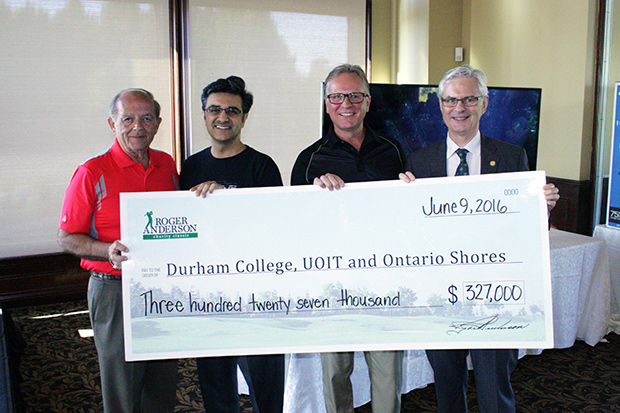 Ajax, Ontario – The 19th annual Roger Anderson Charity Classic golf tournament was held on June 9 with sponsors, donors, volunteers and participants coming together to raise $327,000. Funds will be used to support students in financial need at the University of Ontario Institute of Technology and Durham College, and child and youth programs at Ontario Shores Centre for Mental Health Science.
One of Durham Region's most popular and well-established fundraising events, the day started with Durham Regional Chair and Chief Executive Officer Roger Anderson greeting the 230 golfers representing various local organizations. With high spirits from a great turnout, players and volunteers enjoyed a day filled with sunshine, laughter and, of course, plenty of time on the green.
"Supporting youth is crucial as we continue developing our communities," said Anderson. "It's wonderful to see golfers come out each year to raise money for an important cause while also having some fun on the course."
For nearly two decades, the tournament has enabled community members to get involved and make a positive difference for students and youth across the region, while enjoying a fun day of golf with friends and colleagues.
The tournament has raised more than $5.8 million since its inception.
Three representatives from the benefiting organizations attended the cheque presentation, offering thanks on behalf of their communities for the hard work and dedication of the organizers and everyone involved who helped to make the tournament such a great success.
Tournament organizers give recognition and gratitude to all sponsors for their generous and continued support of the tournament. 
Media contact:
Bryan Oliver
Communications and Marketing
University of Ontario Institute of Technology
905.721. 8668 ext. 6709
bryan.oliver@ontariotechu.ca