UOIT student-entrepreneurs design innovative smartwatch
June 28, 2016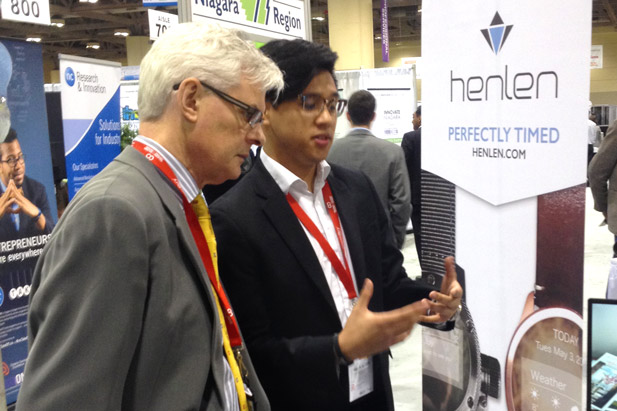 Although wearable timepieces date as far back as the 16th century (pocket watches), a group of University of Ontario Institute of Technology (UOIT) student-entrepreneurs believes it's never too late to make a better watch.
Kyle George (Mechanical Engineering) and Ryan Nasara (Software Engineering) have just completed the second year of their programs. And what a year it has been: last summer George and Nasara teamed up with Durham College student Gregory Barnes to form Henlen Watches, an entrepreneurial company that has designed an interchangeable smartwatch. Now their sights are set on taking their products to market.
"The key principle is never having to sacrifice smartwatch style for functionality," explains George, Henlen's Chief Executive Officer. "People can't really wear the same smartwatch for physical activity as they would in a professional setting. Our design allows for a smartwatch's 'smart' component – known as the 'Cell' - to be swappable throughout various designs and styles of wristbands. We integrate classic, adaptable wristwatch designs with optimal smartwatch software to re-establish the original purpose of a wristwatch."
The entrepreneurial journey
In just 15 months, Henlen has moved from a basic concept to the project funding phase.
"There have been multiple iterations and design changes along the way," says George. "We have done our due diligence. We haven't been afraid to get out there and find out what people want and what people think about our watches. We have worked hard and talked to hundreds to find out what exactly the market was lacking in smartwatches."
Like many entrepreneurial journeys, Henlen's has been a whirlwind. Seeded with a $5,000 award from the university's Firefly fund, Henlen spent its first year in the UOIT Brilliant Incubator for students, located in and served by the Spark Innovation Centre in downtown Oshawa. Last summer Henlen Watches won Spark Centre's youth incubator Accelerator program and its top prize of $2,500.
"The incubator process has been a huge boost every step of the way," says George. "We are engineering students, so we know a lot about technology. Where we needed help was with issues like marketing, legal concerns and having a business plan. Spark Centre has shared critical insight on market validation, financial planning and brand development to help set us on the road to success."
Next steps
Lots of hard work lies ahead now. Henlen will focus on building a complete Android-based operating system and finessing software components for optimization and stability. The company is gearing up for a major announcement in July 2016.
"Smartwatches are not meant to be a replacement for smartphones, rather more of a companion. We've carefully chosen manufacturing partners who aren't new to smartwatches or to watches. Our partners have years of experience doing exactly what we are trying to deliver."
If all stays on schedule, Henlen Watches will be ready to ship products to customers in February 2017. And as for their commitment to classes?
"Oh yes, of course. We have our program studies too."
About UOIT Brilliant Entrepreneurship
Brilliant Entrepreneurship is UOIT's non-credit entrepreneurship program. Brilliant is supported in part by FastStart and Incubate, Innovate Network of Canada (I-INC). FastStart is a member of the ONE network and is funded in part by the Ontario Centres of Excellence. I-INC is supported in part by the National Research Council Canada.