Durham College and University of Ontario Institute of Technology to enhance partnership through new Innovative Initiatives Fund
July 12, 2016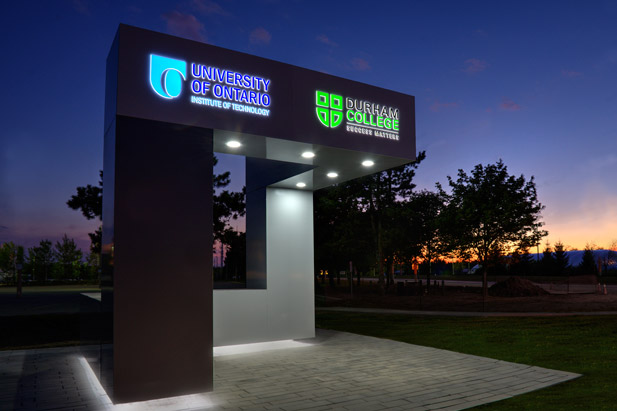 Long-standing campus partners Durham College (DC) and the University of Ontario Institute of Technology (UOIT) announced today a new Innovative Initiatives Fund that will support collaborative initiatives proposed by staff and faculty at both institutions.
The fund has a project budget of $300,000 ($150,000 from each institution) to be used in a pilot year (2016-2017), after which funding will be considered on a more permanent basis.
"DC and UOIT have enjoyed a productive partnership for over a decade," said Don Lovisa, President, DC. "This fund represents how we can broaden that partnership to include innovations in academic initiatives, research and innovation, support for entrepreneurship and joint partnerships involving the community."
"The underlying spirit of the successful projects should be that students benefit from collaboration and that the campus and its institutions become more than the sum of their parts," said Tim McTiernan, President and Vice-Chancellor, UOIT.
A steering group of senior staff and faculty from each institution are developing decision-making criteria and rules related to joint project proposals. The funding can be used to leverage joint partnerships and matching funding, where available. Projects could begin as early as this fall.
The two institutions' history of collaboration includes an array of seamless and flexible academic pathways programs for students. The university and college also share services, such as campus security and information technology, that enhance administrative efficiency.
Media contacts:
Bryan Oliver
Communications and Marketing
University of Ontario Institute of Technology
905.721.8668 ext. 6709
bryan.oliver@uoit.ca
Melissa McLean              
Communications and Marketing
Durham College
905.721.2000 ext. 2952
melissa.mclean@durhamcollege.ca