Back by popular demand: The UOIT Science Café returns September 17
September 15, 2016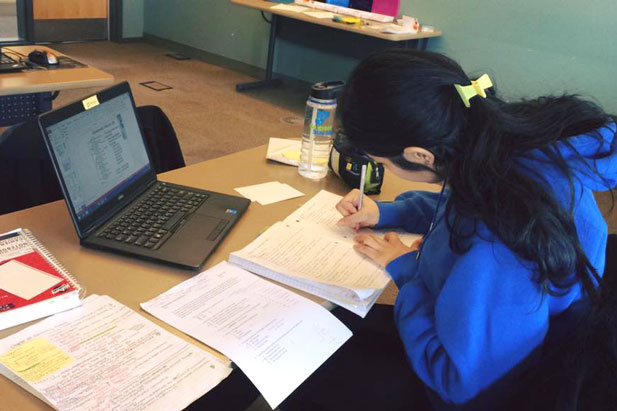 Research and experimentation are major components of scientific inquiry. Making new discoveries requires testing new ideas and trying new strategies.
Last year the University of Ontario Institute of Technology's (UOIT) Faculty of Science (FSCI) decided to try an extracurricular experiment of sorts. The inquiry? To explore whether there was student interest in attending a weekly informal drop-in academic support session – on a Saturday.
The Saturday Science Café experiment proved to be a big hit. Now branded the UOIT Science Café, the weekly gathering makes its return to campus on Saturday, September 17. Each Café runs from 11 a.m. to 3 p.m. in the Science Building, Room 3230.
No registration is required. Students from all year levels can attend the sessions as frequently and for as long as they want. Sessions offer academic support and mentorship in the areas of Biology, Chemistry, Mathematics and Physics. Participants can review course material, work on assignments and learn from fellow classmates.
"We found students really enjoyed taking advantage of a relaxed study space, with access to great study resources outside of the regular work week – and of course, complimentary hot beverages," says Lidya Salim, UOIT Science Café Facilitator. "Everyone has the option of working individually or in small groups. This flexibility accommodates different learning and working styles and allows students to fulfil their individual needs and goals."
The UOIT Science Café complements a number of great learning supports on campus, like tutorials, professors' office hours, tutoring services and the Peer-Assisted Study Sessions (PASS) program.
"The UOIT Science Café aims to build a stronger science community on campus by connecting Faculty of Science students to each other," says Dr. Sean Forrester, Associate Professor, FSCI. "Many students commute or have employment commitments on weeknights, so this program offers maximum flexibility. We count on the support of upper-year Science students who are prepared to share their knowledge and experiences with Café attendees."
Those upper-year students are part of the FSCI Community Team – student ambassadors serving as role models who are keen to contribute to the success of fellow FSCI students by sharing their personal experiences and expertise.
The Cafés will also be special events and opportunities for students to interact with faculty members, including Professors, Researchers and Academic Advisors.
Testimonials
"The UOIT Science Café is such an amazing place for students to get the help they need. Last year, I attended to go over course material with the teaching assistants, and they were always so helpful. This year, I'm honoured to continue to support the program as a member of the Faculty of Science Community Team."
-Kenneth Clarke, third-year Life Sciences student
"Last year, I attended the Café to find a communal space to study, meet peers, and bounce ideas off other students. Coming to the Café, you could see the UOIT Science community growing in front of your eyes. When I had the opportunity to become a member of the Community Team, I had to jump at it. Creating a community across programs, majors, years and degrees enriches any student's experience, and I'm excited to be a catalyst for these connections."
-Emma Blackwood, fourth-year Life Sciences student