MDC shows growth in its Agricultural Leadership Certificate program
Enrolment expands in course developed collaboratively with agricultural sector
November 9, 2016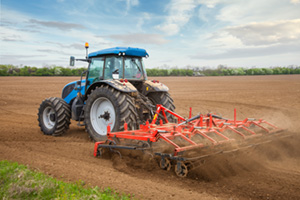 Uxbridge, Ontario farmer Jim Tindall knows the local dairy goat breeding business as well as anyone. But Tindall also knows that every 21st-century farmer can still learn a thing or two about what it takes to be successful in marketing their products or crops.
"Last winter I learned about an amazing opportunity to go back to the classroom at my local university's Management Development Centre (MDC) and expand my knowledge on the business side," says Tindall. "The University of Ontario Institute of Technology's (UOIT) program was an ideal blend of theory and practicality. To be engaged by great instructors was motivating and a great addition to our efforts at home. As food producers, we are all called as advocates and leaders in our communities, and I now have many more tools to draw on." 
Offered during a natural period of 'downtime' in the industry, the MDC's Agricultural Leadership Certificate program launched in January 2016. Created in partnership with area economic development leaders and representatives of the agriculture industry, participants gain skills in business leadership, communication and marketing, specifically for this sector.
"Participants learn to be prepared business leaders and confident advocates for their transforming industry," says Stephen Rose, Associate Dean, UOIT Faculty of Business and Information Technology (FBIT), and Director, MDC. "We are very pleased to collaborate with government and local agriculture initiatives to bring this program to the university and to Durham Region."
Enrolment for 2017 has jumped by 50 per cent, but spaces are still available*.
Leading industry instructors include Janet Horner, Executive Director, Golden Horseshoe Food and Farming Alliance. Horner will conclude the program with an overview of best practices, how to implement and sustain change, and how to advocate and utilize resources available within the agricultural community.
About the program
The Agricultural Leadership Certificate program consists of five highly interactive workshops for those working within the agricultural sector, regardless if they are an owner, partner or responsible for the operational or day-to-day functions of the agri-business. Modules include: leadership, communication, human resources, marketing, public relations and management. Participants emerge with a strong foundation of relevant tools that may be implemented immediately. 
Course facilitators/instructors provide knowledge and expertise within their topic area as well as their instructional experience within the agricultural sector.
2017 program dates: Every second Tuesday, from January 10 to March 7 (inclusive)
*Registration is now open. Classes begin Tuesday, January 10, 2017. Contact Betty Khattab, Program Co-ordinator or Lee Bazely, Program Assistant for further information at 905.721.8668 ext. 3290, or email mdc@uoit.ca.
Who should attend?
This certificate is developed specifically for those who wish to gain leadership, business and communication skills that will assist not only their leadership potential but will also provide tools and techniques to use immediately within their agricultural business (farm managers, owners, supervisors, business development managers, and agri-business organizations). Registration is restricted based on those who work within this sector.
Canada-Ontario Job Grant
The university's Management Development Centre is an accredited training provider under the Canada-Ontario Job Grant. Employers who are interested in receiving information about this grant may access information on the COJG website.
About the MDC
As part of the Faculty of Business and Information Technology, the Management Development Centre (MDC) supports the university's strategic mission to 'develop academic and research collaborations with industry and community that stimulate and enhance the region and university at home and abroad to partner with industry.'