UOIT Three Minute Thesis winner Ololade Sanusi impresses on provincial stage
Advances to national competition later this spring
April 13, 2017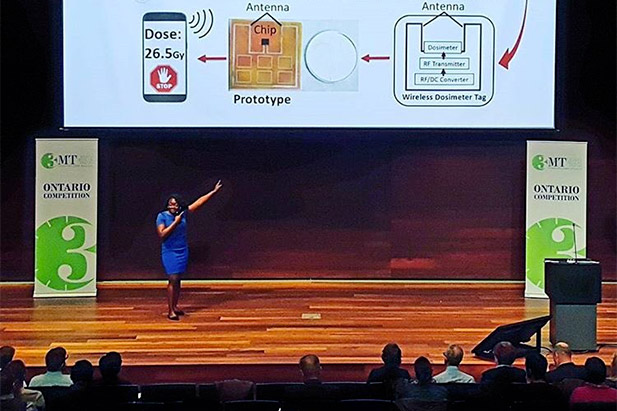 Ololade Sanusi is going where no University of Ontario Institute of Technology graduate student has gone before.
Sanusi, the winner of the university's Three Minute Thesis (3MT®) final on March 23, impressed the judges at the Ontario 3MT® competition April 12 at the University of Waterloo. The Electrical and Computer Engineering PhD candidate earned fourth-place honours in the province on April 12. She and the other top-five Ontario presenters advance to the national 3MT® finals hosted by the Canadian Association for Graduate Studies (CAGS). In the five-year history of the Ontario 3MT® competition, Ololade is the first from the university to advance to the national event.
Sanusi's video presentation exploring new technology for blood sterilization systems will be among those profiled on the CAGS website from May 12 to 26. In June, the national judges' panel will announce a national winner and runner-up. People across Canada can also vote online for the People's Choice award.
Congratulations Ololade and good luck in the national 3MT® competition.
Related links: