Largest graduation class highlights 2017 Convocation
University's alumni base expands to more than 16,000
June 20, 2017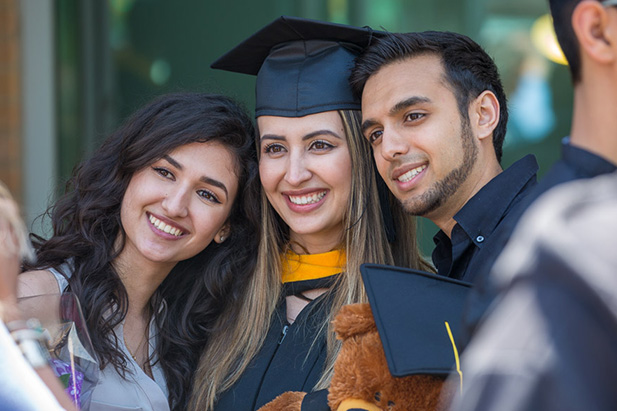 Cheers and applause echoed through the Tribute Communities Centre as the University of Ontario Institute of Technology's largest-ever graduating class crossed the stage during Convocation 2017.
During four ceremonies over two days, approximately 2,200 graduates received their degrees. In addition to bachelor's degrees, the university conferred more than 260 graduate student degrees, 27 of them PhDs.
Since opening in 2003, the university has conferred more than 16,000 degrees to graduates who are making a difference and driving innovation in Durham Region, Northumberland County and, in many cases, around the world.
Among new milestones this year for the university: the Faculty of Science celebrated the first graduate of its Astrophysics program, and the Faculty of Business and Information Technology (FBIT) awarded its first graduate diplomas in Accounting.
Bachelor of Commerce (Accounting) graduate Hannah Preston, now a student in FBIT's graduate diploma in Accounting program, won the FBIT faculty medal for academic achievement (highest cumulative grade point average (GPA) in required courses). Preston also won the Governor General's Silver Medal for highest cumulative GPA across all faculties.
"Convocation was an incredibly exciting day to reflect on my time at the university and the many great opportunities and experiences gained throughout my program," says Preston. "I have grown as a professional and a person. Walking across the stage with so many bright and talented friends and colleagues was the best way to celebrate everything I have achieved."  
2017 honorary degrees and citation links
The university also presented four honorary degrees to outstanding Canadians in recognition of their leadership and contributions to society. Individually and collectively, the recipients exemplify the type of citizen leadership the university aims to instil in all graduates.
Gallery