School of Graduate and Postdoctoral Studies making a name for itself
Rebranded school offers unique advantages to deliver student success
July 4, 2017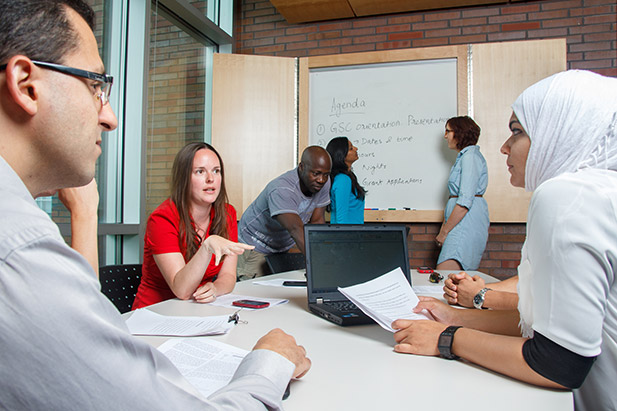 Postdoctoral fellowships, career advancement, networking and soft-skill development highlight new initiatives unveiled by the University of Ontario Institute of Technology's School of Graduate and Postdoctoral Studies (SGPS).
The former Office of Graduate Studies was renamed the School of Graduate and Postdoctoral Studies on July 1, acknowledging the university's remarkable growth in postgraduate programs and postdoctoral fellowships in recent years. The new title reflects the school's academic and administrative roles and coincides with enhanced programming for master's degree students, PhD candidates and postdoctoral fellows.
SGPS' shared responsibilities include program design and growth, quality standards, recruitment and enrolment management, scholarship support, graduate student professional skills development, and international and research partnerships.
In addition, over the last year SGPS took on administrative responsibilities for postdoctoral studies.
Over the coming months, SGPS will implement a strengthened Graduate Professional Skills program designed to broaden graduate students' academic activities and prepare students for a successful career in industry, government and non-government organizations, or academia. Aziz Douai, PhD, Assistant Dean, SGPS, and Associate Professor in the Faculty of Social Science and Humanities will drive this initiative. Dr. Douai's portfolio will also involve expanding the school's internal and external partnerships.
Quick facts
The university launched its first graduate degree program (Master of Information Technology Security) in 2005, in the university's third academic year.
Program offerings continue to expand across all seven faculties: in 2016-2017 the university offered 43 graduate programs, including PhDs, master's degrees and graduate diplomas.
In 2016-2017, there were 749 graduate students at the university, including 128 international graduate students.
Quote
"The School of Graduate and Postdoctoral Studies is central to the academic life of the university, with our graduate students and postdoctoral fellows exploring and extending the boundaries of knowledge across disciplines. We look forward to collaborating with all units on campus to offer an outstanding experience for our scholars, and preparing future leaders as they seek to enable major social, intellectual and economic advancements."  
–Langis Roy, PhD, Dean, School of Graduate and Postdoctoral Studies
Related link
---
Media contact
Bryan Oliver
Communications and Marketing
Ontario Tech University
905.721.8668 ext 6709
bryan.oliver@uoit.ca