Undergrad students turn innovative ideas into real solutions
Student Research Showcase exemplifies enriched experiential learning opportunities
September 7, 2017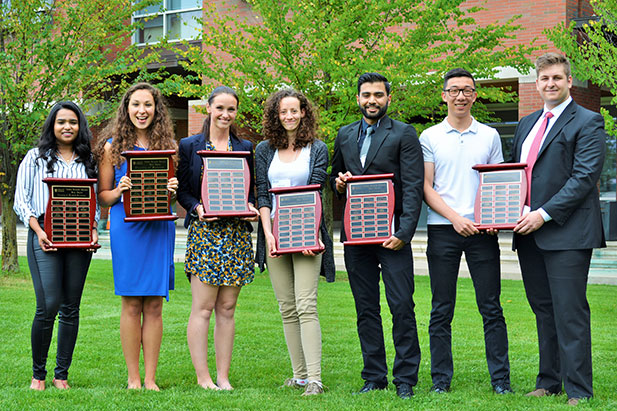 From artificial intelligence applications in the classroom to building a better transit system in the Golden Horseshoe, undergraduate students at the University of Ontario Institute of Technology (UOIT) are brimming with brilliant ideas to make our world a better place.
On August 24, dozens shared their discoveries and findings with fellow students, faculty members, industry partners and the community at the university's annual Student Research Showcase (SRS). The SRS offers a compelling opportunity for students to play key roles in research projects, from investigating and interviewing to data analysis and modelling.
Related links: Local media coverage of SRS
SRS participants presented posters summarizing their work, offering practical ideas in a wide range of research areas. Faculty members, university instructors and external judges evaluated the posters and presented awards for each faculty. About 70 per cent of projects received funding through:
To help sharpen their presentation skills, participants watched a presentation by a recent participant of the university's 2017 Three Minute Thesis competition (organized annually by the university's School of Graduate and Postdoctoral Studies). They also heard from Langis Roy, PhD, SGPS Dean, and featured SRS guest speaker Barbara Perry, PhD, Professor with the university's Faculty of Social Science and Humanities. Dr. Perry is a leading international research expert on hate crime and extremism. She spoke about the Challenges and Rewards of Qualitative Research. 
Quote
"The University of Ontario Institute of Technology believes the opportunity for undergraduate research is a vital component of the student experience. It builds on their sound academic foundation, while providing hands-on learning to develop critical-thinking, communication and professional skills. The annual Student Research Showcase highlights the excellence of the contributions our students are making to the university's overall research portfolio."
-Jennifer Freeman, Director, Office of Research Services, University of Ontario Institute of Technology
Selected project profiles
The following organizations were on site to provide information to students about funding programs and the entrepreneurial opportunities available to them:
External participants:
Mitacs Canada: Partnership builder between academia, industry and the world-—to create a more innovative Canada.
Natural Sciences Research Council of Canada (NSERC): Invests in scientific discovery and people for the benefit of Canada-—science and engineering at the frontier of knowledge.
Ontario Centres of Excellence: Accelerates innovation through game-changing research leading to successful commercialization and vibrant collaboration between industry and academia helping to launch the next generation of products and jobs.
Internal participants:
Background information:
The SRS supported by the university's Office of Research Services and hosted by the Office of the Vice-President Research, Innovation and International.
The university provides both undergraduate and graduate students with an enriched and distinctive learning experience that comes from being part of a dynamic research community.
The university recognizes the opportunity to take part in research and share in critical discoveries at an early stage of student development is an important aspect of the university experience.
More than 85 per cent of our undergraduate students participate in experiential learning opportunities offered at the university.
Additional resources: