University celebrates newest building and Canada 150 Student Awards
Software and Informatics Research Centre opening heralds exciting new era of university growth
November 2, 2017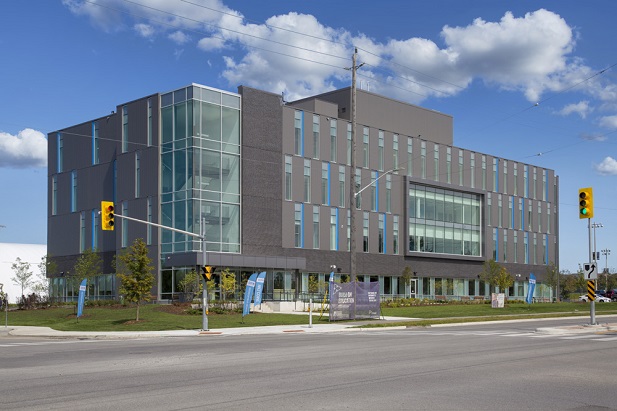 From student successes to research discoveries, the University of Ontario Institute of Technology has many reasons to celebrate achievements.
As one of Canada's newest research universities, and as a vibrant centre of teaching, research and innovation, the university proudly opened its newest building: the Software and Informatics Research Centre (SIRC).
SIRC symbolizes the university's focus on the future and its ongoing promise to champion innovative academic collaborations with industry and the community. SIRC's lab interchangeability, digital and conferencing technology, and innovative makerspaces promise to make it an important catalyst for research and discovery.
In addition to providing study and active learning spaces, the advanced research facility will support collaborative learning, e-learning, entrepreneurship and scholarship. SIRC also clusters the university's expertise in health and business analytics, information technology security, networking, game development, big data informatics, and software engineering. 
The university gratefully acknowledges the contributions of the federal and provincial governments, and the generosity of its donors, who have collectively helped make SIRC a possibility.
First announced in October 2016, SIRC received a $13 million investment from the federal and provincial governments. Of the $33.5 million investment, $11.8 million came from the federal government (through the Post-Secondary Institutions Strategic Investment Fund) and $1.2 million from the Government of Ontario. The university funded the remainder of the building's construction from its capital reserves, as well as with support from the university's donors, alumni and benefactors in the business community.
Canada 150 Student Awards
As the university marked the official opening of SIRC on November 2, it also saluted the passion of its students. Coinciding with the 150th anniversary of Confederation, the university created the Canada 150 Student Awards program as a way to celebrate our country's rich history of creativity and ingenuity, and pave the way for its future leaders.
More than 600 of our students put forward essays that detailed the contributions they have made―and plan to make―to Canada. From these impressive submissions, 150 of our future leaders were selected to each receive a $500 bursary that will go towards the cost of their education. Thank you to the many community donors who generously support our students.