Province and industry partners rally to drive automotive innovation
Ontario, Magna International, Multimatic contribute toward new research infrastructure, student training, carbon emission reduction
February 12, 2018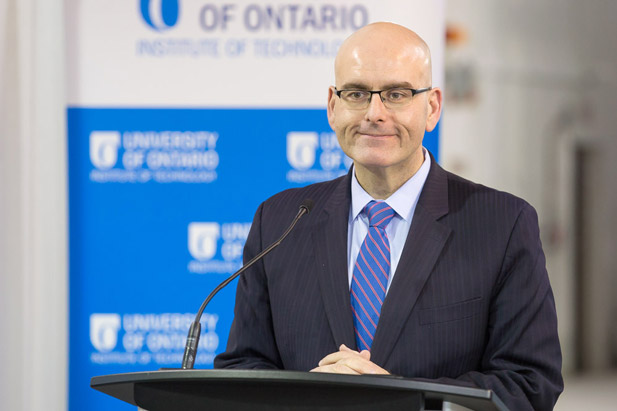 The Province of Ontario, Magna International Incorporated and Multimatic Incorporated are partnering with the University of Ontario Institute of Technology to revolutionize the university's ACE research facility, making it the most comprehensive aerodynamic and thermal test centre in the world.
Through the partnership, ACE will enhance its one-of-a-kind research facility by adding a Moving Ground Plane—a giant belt that acts as a road moving under a vehicle, simulating the aerodynamic forces against moving vehicles, and measuring physical characteristics in real-world conditions.
The Moving Ground Plane will give the university's students the tools to train and conduct research in a high-tech environment, preparing them for the careers of the future. It will also help companies and researchers create new energy-efficient products and reduce carbon emissions in the automotive industry.
Ontario is investing a total of $4 million to enhance ACE. The University of Ontario Institute of Technology is contributing $500,000 and Magna International is contributing $1 million. Multimatic is also providing engineering services from a team of highly talented automotive engineers to help develop this world-class set of aerodynamic measurement tools.
Quotes
"Ontario is pleased to continue its support for the University of Ontario Institute of Technology's ACE—the innovations happening here every day are truly ground-breaking. Partnerships like this are essential to helping our province continue to lead the way in developing and commercializing transformative vehicle technologies. It will help keep Ontario's auto sector at the cutting-edge of product innovation and competitiveness."
— Steven Del Duca, Minister of Economic Development and Growth
"Investing in auto innovation helps researchers make breakthrough discoveries to advance technology and drive economic growth across the province. This strategic investment will help accelerate the great work already taking place at ACE, which will help pave the way for new auto technologies, companies and jobs."
 — Reza Moridi, Minister of Research, Innovation and Science
"This funding for the Moving Ground Plane confirms ACE as the world's leading automotive research and testing facility. The Province of Ontario's generous support, along with that of our industry partners, brings more learning opportunities to our students, generates industrial research, and helps increase economic growth in Ontario and Durham Region while keeping our industry partners here in Canada."
— Steven Murphy, PhD, Incoming President and Vice-Chancellor, University of Ontario Institute of Technology
"Access to sophisticated engineering tools like this wind tunnel will enable companies like Magna to develop better passive and active aerodynamic products which reduce automobile fuel use and CO2 emissions into the environment." 
— Dave Pascoe, Vice-President of Engineering and R&D, Magna International Inc.
"ACE's moving-ground plane will provide Ontario's automotive industry and research community with the unrivalled capability to develop new innovations that reduce energy consumption and CO2 emissions."
— Larry Holt, Vice-President of Engineering, Multimatic Inc. 
Quick facts
Moving ground planes represent the gold standard for aerodynamic research and product development.
ACE is the first testing and research facility of its kind in Canada. It was developed in partnership with the Government of Ontario, Government of Canada, University of Ontario Institute of Technology, General Motors of Canada and the Partners for Advancement of Collaborative Engineering Education (PACE).
Ontario plans to increase the number of post-secondary students graduating in science, technology, engineering and mathematics (STEM) disciplines by 25 per cent over the next five years, to 50,000 per year. This will give Ontario the highest number per capita of post-secondary STEM graduates in North America.
Gallery