University's Founding President Dr. Gary Polonsky recognized with special City of Oshawa award
City partners with university to maintain legacy of Northern Dancer and the Taylor Family
April 16, 2018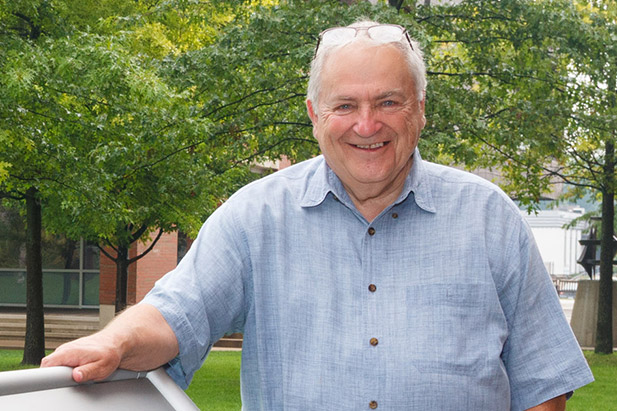 Plans for the future growth of the University of Ontario Institute of Technology at its north Oshawa campus location include preserving an important chapter of local history.
The 2015 Campus Master Plan outlines the university's commitment to maintain the legacy and heritage of Windfields Farm. For decades, the sprawling property north of Conlin Road was home to a renowned thoroughbred horse-breeding farm. Windfields Farm was the birthplace of Northern Dancer, one of the greatest champions of all-time.
In honour of Northern Dancer's cherished record and accomplishments, on April 16 the City of Oshawa designated the 1964 Kentucky Derby winner's final resting place as a heritage site.
Mayor John Henry also presented the inaugural E.P. Taylor/Windfields Farm Champion Award to Gary Polonksy, the university's Founding President (2002 to 2006). The award recognizes an individual who has exemplified innovation and overcome adversity.
At the same presentation, the City of Oshawa also awarded a $113,443.12 cheque to university Chancellor and Windfields Farm President Noreen Taylor, and university President and Vice-Chancellor Steven Murphy. The funds will support the university's plans for landscaping, site improvements and a monument adjacent to Northern Dancer's gravesite.
In addition to announcing plans to name a parkette in honour of Chancellor Taylor's late husband Charles Taylor, the City also presented the university with the original Windfields Farm sign that once graced the famous property's Simcoe Street entrance. The sign will be installed once Windfields' iconic gates are rebuilt with the original stones.
Quotes
"Congratulations to Gary Polonsky, whose visionary administrative leadership helped lay the foundation of the University of Ontario Institute of Technology more than 15 years ago. Chancellor Noreen Taylor holds a special place in the hearts of the community, representing the lasting legacy of the Taylor Family, her late husband Charles Taylor and the late Windfields Farm founder E.P. Taylor. The university takes great pride in its support to preserve this integral part of history and thanks the City of Oshawa for its continued support."
-Steven Murphy, PhD, President, University of Ontario Institute of Technology 
"My late husband Charles often remarked that the future of the City of Oshawa would be considerably improved by the establishment of a university, the university that is now UOIT. Success is built on success, and we are so pleased that the University of Ontario Institute of Technology is carrying on the Windfields Farm tradition of excellence. I am deeply proud and honoured to see a flourishing university graduating the next generation of student champions." 
-Noreen Taylor, Chancellor, University of Ontario Institute of Technology and President, Windfields Farm
---
Media contact
Bryan Oliver
Communications and Marketing
Ontario Tech University
905.721.8668 ext. 6709
289.928.3653
bryan.oliver@uoit.ca