Families: Enjoy free all-day fun May 12 at Science Rendezvous
May 3, 2018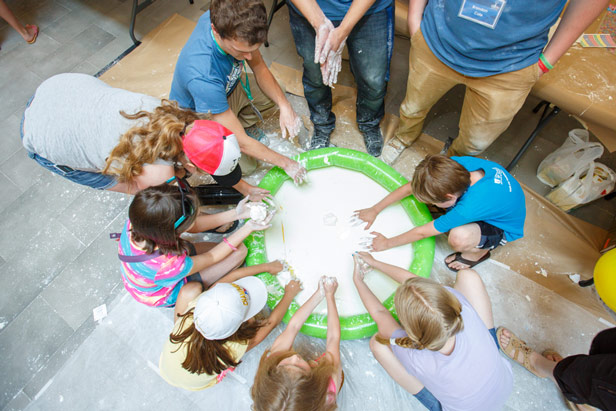 Science Rendezvous, Canada's all-day festival that takes science out of the lab and into the community, returns Saturday, May 12 to the shared campus location of the University of Ontario Institute of Technology (UOIT) and Durham College.
Hosted simultaneously by universities and colleges in 30 cities across the country, Science Rendezvous focuses on giving kids of all ages a one-of-a-kind experience with science, technology, engineering, art and mathematics (STEAM).
Meet scientists, innovators and the next generation of creators for reality demos, mini-workshops, games and fun experiments.
The Science Rendezvous theme this year is Full STEAM Ahead! Celebrate with us as we feature Art in Science as part of this Canada-wide, STEAM showcase.
What: Science Rendezvous, all-day free science festival.
When: Saturday, May 12 from 10 a.m. to 3 p.m.
Where: University of Ontario Institute of Technology and Durham College 
2000 Simcoe Street North

, Oshawa, Ontario
Admission and parking are free.
This year, check out Da Vinci's Den for some art and science inspiration through Science Rendezvous' keystone 'STEAM' events. Sign up for the Family Escape Room, a half-hour of fun science challenges where you try to solve an intriguing science scenario and become a 'Science Superhero'.
Additional activities include:
INVENTours – demonstrations and hands-on activities
Mini-workshops such as:

Candy Chromatography
Good Bacteria, Bad Bacteria

Science Cavalcade demonstrations like:

Chemistry Extravaganza
Shaky Ice Cream and the Return of Liquid Nitrogen Ice Cream

Meet the UOIT Motorsports team who will showcase their electric F1-style racecar
For event details and a full list of activities, visit the Science Rendezvous website.
Participants are encouraged to be 'green' and bring their own packed lunch as well as a refillable water bottle. Other food options will be available for purchase near campus.
Science Rendezvous is a marquee event and signature partner of Science Odyssey, Canada's 10-day celebration of discovery and innovation.
For more information, contact:
Melissa McLean
Durham College
905.721.2000, ext. 2952
melissa.mclean@durhamcollege.ca
Bryan Oliver
University of Ontario Institute of Technology
905.721.8668 ext. 6709
bryan.oliver@uoit.ca
Katie Miller
Executive Director, Science Rendezvous
647.447.7559
kathleen.miller@sciencerendezvous.org
National website: sciencerendezvous.ca