FBIT celebrates student success
May 28, 2018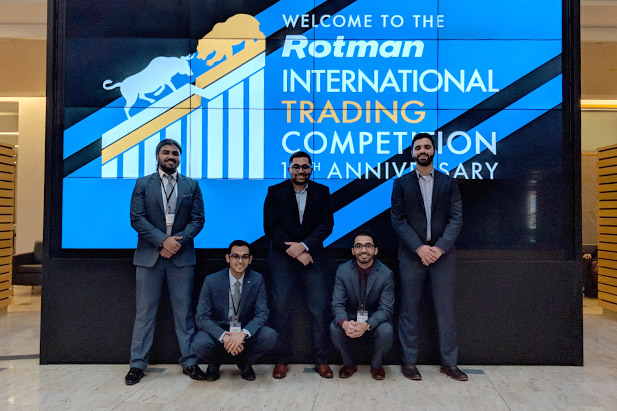 Whether they participate in case competitions, present at conferences or volunteer their time, Faculty of Business and Information Technology (FBIT) students at the University of Ontario Institute of Technology have many opportunities to gain valuable, hands-on experience that prepares them to be leaders in the workplace and contribute to society.
At its recent Student Success Reception, FBIT celebrated and recognized hard-working students for their outstanding academic achievements and contributions to the faculty, university and community. In attendance were more than 100 students, as well as FBIT faculty, staff and industry donors.
Highlighting academic achievement
The faculty honoured outstanding students who made the President's List (3.8 GPA and above) and the Dean's Honour List (3.5 to 3.9 GPA). 
Recognizing student participation
The reception also recognized students who participate, volunteer and represent the faculty and university in various ways. Faculty members highlighted student participation and accomplishments in case competitions including:
Level Up Showcase 2018
Montreal International Game Summit
Rotman International Trading Competition
Supply Chain Student Case Competition
Teaching City Hackathon
Through these competitions, FBIT students experience business and industry challenges in competitive environments.
The reception also celebrated student participation in:
conferences
open houses
recruitment
showcases
FBIT Capstone Awards
 Through the Capstone program, fourth-year students gain hands-on experience by working in teams on consulting projects with outside organizations. Capstone projects reinforce the concepts of teamwork, project management, research and development.  At the end of the program, students participate in a poster presentation; an independent panel of judges including industry experts, faculty and community leaders evaluate and determine the top four winning teams.
 2018 FBIT Capstone Award winners:
Lenbrook Award

RBC Impact Award

First place ($5,000): Tax Audit Solutions Inc.

Marcu Capota
Harjit Parmar
Ian Wei

First place ($5,000) - Meridian Credit Union

Neru Abayaharan
David Chandler
Beaulah Constantine
Jacob Hellas
Harraj Sandhu

Second place ($2,500) - Canadian Automotive Museum

Gregg Campbell
Devin Martin
Rick Packer
Natalie Peltier
Salman Syed

Second place ($2,500) - UOIT Student Union

Emily Brown
Mitchell Gleaves
Ayesha Javed
Nandani Prashad
Jessica Singh
FBIT thanks The Lenbrook Group of Companies and RBC Royal Bank for their generous and continuous commitment to supporting students.
Quotes:
"The Faculty of Business and Information Technology was delighted to celebrate the success of its students and their contributions. Our students should be proud of all they have accomplished; their efforts motivate and inspire others to succeed."
- John Friedlan, PhD, Associate Dean, Faculty of Business and Information Technology
"Congratulations to all Faculty of Business and Information Technology students for their impressive efforts and achievements. The faculty provides its students with essential and valuable experiential learning opportunities. These opportunities challenge their knowledge, expertise and ability to think critically and quickly on their feet. Our students also develop self-confidence presenting to industry leaders."
- Pamela Ritchie, PhD, Dean, Faculty of Business and Information Technology
Gallery