Big wheels turning for Automotive Engineering graduate Chase Pelletier
Earns coveted placement with INFINITI Engineering Academy
June 18, 2018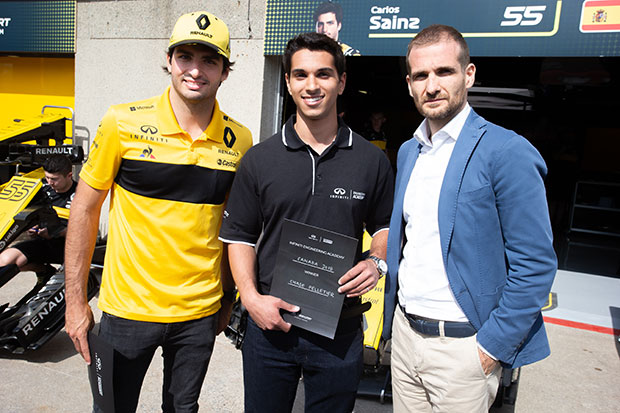 "I was drawn to the University of Ontario Institute of Technology's Automotive Engineering program and the possibilities it offered me to expand my race-specific knowledge. The program was the perfect fit for my endeavours in motorsports."
-Chase Pelletier, Summer 2015, having just completed his first year of study at the university
Great opportunities in the world of auto racing await 2018 University Ontario of Institute Technology graduate Chase Pelletier.
Only weeks after completing his Automotive Engineering degree, Pelletier has earned a highly coveted and exclusive opportunity to work in automotive and Formula One™ racing with the acclaimed INFINITI Engineering Academy and Renault Sport Formula One™ Team.
The INFINITI Engineering Academy is the only recruitment program of its kind in the world. The Academy houses an array of young, diverse and fresh-thinking engineering talent who will gain first-hand knowledge and experience working alongside seasoned automotive and racetrack engineers in the exciting world of Formula One™.
From a pool of thousands of applicants, the 22-year-old Pelletier is one of only seven winners chosen by an esteemed panel of judges that included decision science experts from Harvard University. The announcement came in Montreal, Quebec, against the backdrop of the excitement surrounding the Canadian Grand Prix™.
"It feels incredible to be selected as the Canadian winner of this placement," says Pelletier. "It was very competitive; the other contestants were very strong, so it is very rewarding for me to win this opportunity. I look forward to working for Renault Sport and INFINITI starting in January."
A second University of Ontario Institute of Technology Automotive Engineering student, Allison Yuen (class of 2020), was also among the pool of finalists. Yuen was the only woman among the top 10 Canadian participants.
"The best part of the competition to me was working in teams of five, to modify a 'dragster' kart and make it go faster," says Yuen. "This real-life hands-on track experience is a great career jump-starter. This opportunity demonstrates what engineers do in the automotive industry."
Final evaluations included an engineering exam, a dragster car build, one-on-one interviews with judges, and facing the media in a tough Q&A session where journalists from different industries evaluated finalists' communication skills.
Pelletier will begin a 12-month placement in the United Kingdom in January: six months at the Renault Formula One™ Team's Technical Centre in Enstone, and six months at INFINITI's European Technical Centre in Cranfield. He will play a key role in the ongoing transfer of technical knowledge and expertise between Renault Sport Formula One™ Team and INFINITI.
Pelletier enrolled at the university in 2014 after graduating from St. Edmund Campion Secondary School in Brampton, Ontario.
-with files from INFINITI Motor Company – Canada
---
Media contact
Bryan Oliver
Communications and Marketing
Ontario Tech University
905.721.8668 ext. 6709
289.928.3653
bryan.oliver@uoit.ca