University's Pierre Côté, DC, PhD named founding member of Global Rehabilitation Alliance
Canada Research Chair will serve with international group committed to addressing a major health-care strategy
June 1, 2018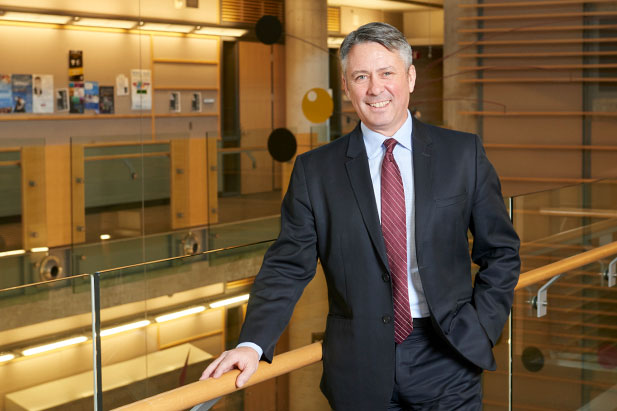 The World Health Organization says there is a profound need in low- and middle-income countries for expanded and improved health-care rehabilitation services. Many people have no access to timely physical therapy without encountering financial hardship.
The WHO's data indicates the magnitude and scope of unmet rehabilitation needs jeopardizes the opportunity for millions to be economically productive and lead meaningful lives.
A leading researcher at the University of Ontario Institute of Technology (UOIT) will play a key role in driving new solutions to address this international health-care issue. Dr. Pierre Côté, the university's Canada Research Chair in Disability Prevention and Rehabilitation, will serve with the recently founded
Global Rehabilitation Alliance (GRA)—a strategic partnership with the WHO.
Dr. Côté was elected as an inaugural member of the Alliance during a May 22 meeting of the World Health Assembly in Geneva, Switzerland.
The GRA is an outcome from the WHO's 2017 stakeholder meeting, Rehabilitation 2030: A Call for Action. The GRA advocates for the availability of quality, co-ordinated and affordable rehabilitation through system strengthening according to population needs.
Dr. Côté is an Associate Professor with the university's Faculty of Health Sciences and Director of the UOIT-Canadian Memorial Chiropractic College (CMCC) Centre for Disability Prevention and Rehabilitation.
Quote
"Patient-centred care is critical to the delivery of rehabilitation. I am very excited about this new challenge because it fits perfectly into the mandate of my Canada Research Chair. This new Alliance will be a collaborative platform for one voice at the global level to raise awareness and strengthen rehabilitation in health and social systems around the world."
-Pierre Côté, DC, PhD, Canada Research Chair in Disability Prevention and Rehabilitation, and Associate Professor, Faculty of Health Sciences, University of Ontario Institute of Technology