Mechanical Engineering student makes most of Toyota/Lexus internship
Awais Choudhary placed with automaker's Cambridge, Ontario motor manufacturing centre
August 8, 2018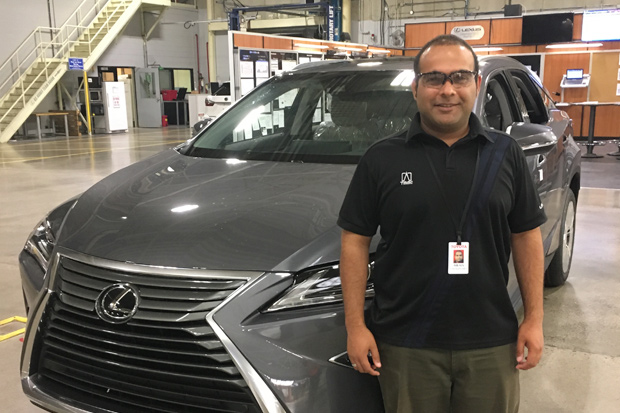 When Awais Choudhary returns to the University of Ontario Institute of Technology for the final year of his undergraduate Mechanical Engineering program in September, he'll have the experience of a tremendous 12-month internship under his belt.
Choudhary spent the past year on an internship at Toyota Motor Manufacturing Canada (TMMC) in Cambridge, Ontario (one of three TMMC plants in southwestern Ontario). He worked as a Quality Control Engineering Specialist at the facility that builds two models of Lexus vehicles (RX350 and RX450h). The plant has the distinction of being the first outside of Japan to manufacture a Lexus.
The opportunity came through the university's Engineering Co-Op and Internship program.
"Working as an intern at Toyota Motor Manufacturing Canada has helped me develop and grow my skill set in a very fast-paced and challenging environment," says Choudhary. "I fell in love with real-world practical engineering analysis because of the energetic staff who train, mentor and challenge you."
His responsibilities included performing root cause analysis and developing countermeasures any time there is an issue with the interior roof and trim/garnish of new vehicles. He also ensured any defects were reported to Lexus Quality during production or audit.
"You never know what's coming because the line never stops. Sometimes the problems are small, sometimes they are big. Every day there is an opportunity to learn about something you may not have seen in the past. The company's flexible work atmosphere is extremely accommodating of the numerous commitments professional students tend to face. Working here provided meaningful experience as I advance my career and professional goals."
For more information about the Engineering Co-Op and Internship program at the University of Ontario Institute of Technology, contact engineering.internship@uoit.ca.