University makes its mark at international nuclear conference
August 15, 2018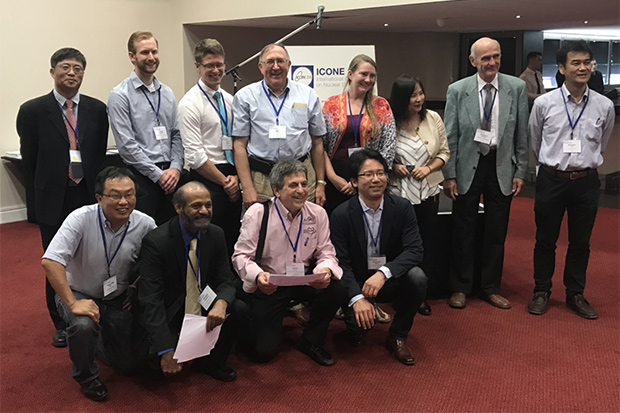 As one of Canada's newest research universities, the University of Ontario Institute of Technology continues to punch well above its weight on the international nuclear stage.
Led by Professor Igor Pioro, PhD, the Faculty of Energy Systems and Nuclear Science (FESNS) assembled one of the largest delegations from a single university to July's 26th International Conference on Nuclear Engineering (ICONE-26) in London, United Kingdom. The team presented six joint research papers at the conference. Four of the papers won ICONE awards.
2018 Nuclear Engineering graduate Braedon Carr also attended ICONE. Carr, who was recently hired by the Canadian Nuclear Safety Commission (CNSC), co-authored a paper with Jovica Riznic, PhD, Technical Specialist, Operational Engineering Assessment, CNSC. Their submission won the Best Paper Award.
Also contributing to papers in ICONE's Student Track competition were three capstone students (and 2018 graduates) working under the supervision of Dr. Pioro:
Keyaan Barati Far
Mohammed Mahdi
Roman Popov 
Held annually, ICONE is the premier global conference addressing the needs of the nuclear industry, focusing on the technical state-of-the-art and the current status of nuclear power around the world.
Fast fact: Previous delegations from the University of Ontario Institute of Technology have won Best Paper and Best Poster awards at ICONE (2009, 2012 and 2014), including ICONE's prestigious Akiyama Medal for best student paper. No other university has won the Akiyama Medal more than once.
Dr. Pioro is also the Founding Editor of the American Society of Mechanical Engineers Journal of Nuclear Engineering and Radiation Science, the main ICONE-26, journal. He will edit a special 2019 journal issue featuring augmented and revised papers from ICONE-26.
After the conference, Dr. Pioro lectured at the historic University of Cambridge  on the 'Current status of electricity generation in the world and the future of the nuclear power industry'. The presentation marked Dr. Pioro's 25th public lecture at an international university, nuclear research centre and nuclear company.
Other members of the university's ICONE-26 international team included:
Bengt Lydell, Senior Principal Consultant, SIGMA-PHASE Inc., Vail, Arizona, U.S.
Professor Natalia Fialko, National Academy of Sciences of Ukraine.
Professor Mykola Bobyr, National Technical University of Ukraine's (NTUU) Igor Sikorsky Kiev Polytechnic Institute.
Undergraduate and graduate students from: NTUU, the Institute of Engineering Thermophysics at Ukraine's National Academy of Sciences; Germany's Otto-von-Guericke-University (Magdeburg); and Russia's Lomonosov Moscow State University.
Gallery