Scholarships recognize university's strong Caribbean community
September 25, 2018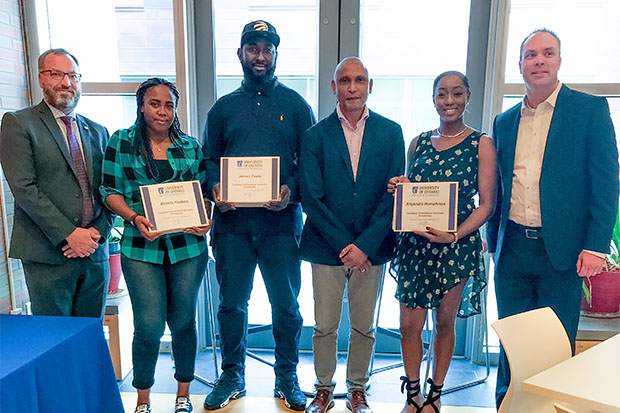 In the fall of 2017, two powerful hurricanes (Irma and Maria) devastated parts of the Caribbean, including the countries of Antigua and Barbuda; Dominica; and St. Kitts and Nevis.
In recognition of the University of Ontario Institute of Technology's extensive connections to the Caribbean, the university created the Caribbean Humanitarian Hurricane Relief Scholarship for students impacted by the hurricanes and forced to alter their study plans. This scholarship was initiated by Wesley Crichlow, PhD, Associate Dean (Equity) and Professor in the Faculty of Social Science and Humanities.
Each country was asked to select up to two students for the scholarship (valued between C$28,067 and C$39,460), with preference given to students directly impacted by the 2017 hurricanes.
Recipients:
Devorn Carty (St. Kitts and Nevis), Political Science
Jervan Casey (Dominica), Networking and Information Technology Security
Shiresa Hopkins (Antigua and Barbuda), Communication and Digital Media Studies
Alejandra Humphreys (Dominica), Commerce
Azuredee Mills (St. Kitts and Nevis), Biological Science
Each scholarship includes tuition fees, on-campus shared accommodation, and a four-year meal plan (eight semesters).
The University of Ontario Institute of Technology is home to more than 30 international students from the Caribbean. The region is a priority market in the university's international recruitment strategy, leveraging the large Caribbean-origin population in the Greater Toronto Area.
Quotes
"The hurricane badly damaged so many homes in Dominica and I had no idea when I might be able to pursue university studies. What a difference a year makes with this incredible opportunity in Canada at the University of Ontario Institute of Technology."
-Jervan Casey, first-year Networking and Information Technology Security
"I am so grateful to receive this scholarship and be here at the University of Ontario Institute of Technology. The campus is so friendly and I love my classes. I also look forward to sharing the story of my academic success back home in Antigua and Barbuda."
-Shiresa Hopkins, first-year Communication and Digital Media Studies
"The hurricane was forecast to be Category 3, but just before it hit it jumped to Category 5. We were stuck in the community for days due to damaged roads, landslides and fallen rocks. I am thankful to the University of Ontario Institute of Technology for this once in a lifetime opportunity. My professors and classmates are so friendly and always willing to help."
-Alejandra Humphreys, first-year Commerce (major: Finance)
Gallery