Pierre Côté's Canada Research Chair in Disability Prevention and Rehabilitation renewed
University expert an influential scientist and advocate in health-care related public policy
December 3, 2018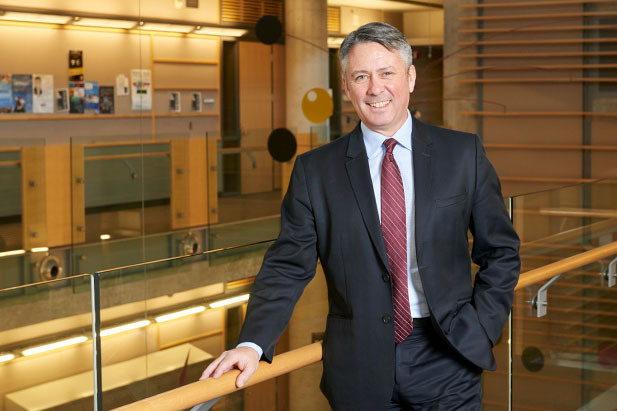 For his research discoveries and advances in the management of chronic pain and disability, the Government of Canada has renewed University of Ontario Institute of Technology researcher Dr. Pierre Côté's Tier 2 Canada Research Chair (CRC) in Disability Prevention and Rehabilitation for a second five-year term.
Dr. Côté's research proposes a new conceptual vision of disability. In particular, he examines the hidden impacts of musculoskeletal pain and mental health disorders, the two leading causes of disability worldwide. These 'invisible' disabilities contribute to work absenteeism and financial loss for individuals and employers.
"Despite large societal investments in the treatment of musculoskeletal pain and mental health disorders, the prevalence of resulting disabilities continues to grow significantly," says Dr. Côté, Professor, Faculty of Health Sciences. "One reason for this epidemic is that these two conditions often co-exist in individuals. Research to-date has not considered their shared causes and prognosis."
His recent research has identified the most effective treatments for common traffic injuries such as whiplash and low back pain.
Dr. Côté has also developed a research program on the public health problem of poor mental health in university students. He found most undergraduate university students suffer from a significant episode of mental health problems every year. He has identified possible areas of investigation to reduce the burden of mental health in this vulnerable population group.
With international researchers, Dr. Côté has also co-led the development of interventions to prevent disability caused by back and neck pain in developing countries. His findings will inform the development of prevention strategies and rehabilitation intervention.
Recent stories related to Dr. Côté's research:
Quotes
"Canada Research Chairs are recognized as national and international leaders in their specific areas of expertise. The renewal of Dr. Pierre Côté's research chair endorses his outstanding record of scholarship and confirms the impact his record of discovery and evidence-based research is having on major societal issues."
-Lori Livingston, PhD, Dean, Faculty of Health Sciences, University of Ontario Institute of Technology
"We are proud of the tireless passion our researchers demonstrate in the pursuit of new knowledge. The Canada Research Chairs program supports the University of Ontario Institute of Technology's capacity to contribute to the advancement of society and turn innovative ideas into real solutions. We look forward to learning more about Dr. Côté's findings as he advances new perspectives in disability prevention and rehabilitation."
-Jennifer Freeman, Director, Office of Research Services, University of Ontario Institute of Technology
University's Canada Research Chairs:
The university has three additional CRCs in development.
Canada Research Chair alumni whose research continues at the university:
Douglas Holdway, PhD – Tier 1 CRC in Aquatic Toxicology (Faculty of Science, 2004 to 2018)
Carolyn McGregor, PhD – Tier 2 CRC in Health Informatics (Faculty of Business and Information Technology, 2007 to 2017)
About the CRC program
The CRC program invests approximately $265 million per year to attract and retain some of the world's most accomplished and promising minds. Nearly 1,700 CRC holders are working at more than 70 post-secondary institutions across the country in a wide range of fields. The CRC designation recognizes leading national and international experts in engineering and the natural sciences, health sciences, humanities, and social sciences.
Tier 1 Chairs are outstanding researchers acknowledged by their peers as world leaders in their fields. Valued at $1.4 million, appointments are for seven years and are renewable.
Tier 2 Chairs recognize exceptional emerging researchers, as judged by their peers, with potential to lead in their field. Valued at $500,000, appointments are for five years and renewable once.
Website: chairs-chaires.gc.ca
---
Media contact
Bryan Oliver
Communications and Marketing
Ontario Tech University
905.721.8668 ext. 6709
289.928.3653
bryan.oliver@uoit.ca