Noreen Taylor reappointed Chancellor of the University of Ontario Institute of Technology
Has served as titular head of the university since 2016
January 29, 2019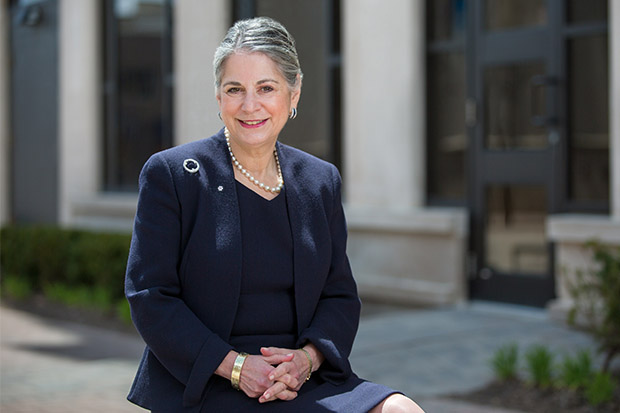 The University of Ontario Institute of Technology proudly reappoints Canadian cultural leader and philanthropist Noreen Taylor, CM, to a new term as Chancellor, effective Tuesday, January 29.
Ms. Taylor was installed as the university's third Chancellor in 2016. During her tenure she has offered personal congratulations to more than 6,000 graduates crossing the stage at Convocation ceremonies.
Chancellor Taylor is renowned for her leadership in Canada's health-care, cultural, educational and horse racing communities. She is Chair of the Charles Taylor Foundation and founder of the RBC Taylor Prize, Canada's most prestigious prize for non-fiction writing that honours her late husband, journalist and author Charles Taylor.
She is currently Chair of Saint Elizabeth Health Care, Canada's leading not-for-profit deliverer of home health care, and President of Windfields Farm Limited. The respected artist and teacher serves on the Board of the National Ballet of Canada. She also is past Chair of both the McMichael Collection of Canadian Art and of Canadian Stage.
Chancellor Taylor is a recipient of the Queen's Diamond Jubilee Medal and a Member of the Order of Canada. She is the daughter-in-law of eminent entrepreneur and thoroughbred racehorse breeder, the late E.P. Taylor.
The Chancellor presides over Convocation and confers all degrees, honorary degrees, certificates and diplomas on behalf of the university. Chancellor Taylor will preside over her fourth Convocation ceremonies in June at the Tribute Communities Centre in Oshawa, Ontario.
The University of Ontario Institute of Technology Act (2002) states "There shall be a Chancellor of the university appointed by the Board of Governors in such manner as it shall determine."
Quotes
"It is an honour and privilege to be Chancellor of the University of Ontario Institute of Technology, a university connected to the lands of Windfields Farm, which for generations raised champion thoroughbred horses. In my various roles at Windfields, I have watched this university evolve from a dream, and vision of my husband Charles, into the reality of today's thriving institution. In the same spirit and tradition of Windfields, the university produces outstanding future leaders who are champions in their own right."
-Noreen Taylor, CM, Chancellor
"Chancellor Taylor's passionate advocacy for the university and its mission is unparalleled. Through the legacy of her work with Windfields Farm Limited and her long connections to the local community, she proudly represents a special link to the university's roots and proud history. The Board of Governors looks forward to Chancellor Taylor's continuing guidance and leadership as the university positions itself for an exciting future."
-Doug Allingham, Chair, Board of Governors
"Chancellor Taylor's record of distinguished leadership with so many organizations represents an unwavering commitment to excellence that inspires our entire university community. As we move forward with strengthening our university's brand and identity, we are grateful for her ongoing dedication to the university and devotion to the success of our students."
-Dr. Steven Murphy, President and Vice-Chancellor
---
About Ontario Tech University
A modern, forwarding-thinking university, Ontario Tech advances the discovery and application of knowledge to accelerate economic growth, regional development and social innovation. We inspire and equip our students and our graduates to make a positive impact in a tech-focused world. For us, it's not only about developing the next tech breakthrough. Understanding and integrating the social and ethical implications of technology differentiates us as university. Learn more at ontariotechu.ca.
---
Media contact
Bryan Oliver
Communications and Marketing
Ontario Tech University
905.721.8668 ext. 6709
289.928.3653
bryan.oliver@uoit.ca