GM Canada's announcement complements Ontario Tech University's innovation capacity
New activities aligned with the university's focus on technology, R&D and commitment to community-industry partnerships
May 8, 2019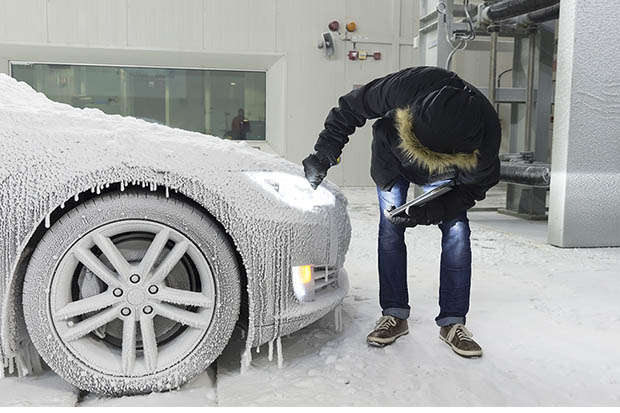 Ontario Tech University looks forward to strengthening its longstanding relationship with General Motors Canada following the automaker's May 8 Transformation Agreement with Unifor regarding operations in Oshawa, Ontario.
GM Canada and Unifor are working together to transition GM's Oshawa Assembly operations to parts manufacturing and advanced vehicle testing centre. Among the initiatives is a new 55-acre outdoor test-track that will enable GM's Canadian Technical Centre to develop and test autonomous and advanced technology vehicle systems, an area of focus for Ontario Tech University researchers.
The university's multi-faceted partnership with GM Canada includes the company's support behind the planning and development of ACE, the university's Automotive Centre of Excellence (opened 2011). GM is among ACE's many automotive testing clients.
Endeavours related to GM Canada's new test track/development surface will complement ACE's leading role in Ontario's Autonomous Vehicle Innovation Network. ACE's testing chambers, powerful climatic wind tunnel, and new moving ground plane (to be operational in 2020) are designed to lead innovation and R&D in the automotive industry right here in Oshawa.
The university's Faculty of Engineering and Applied Science also collaborates with the automotive innovator on initiatives to inspire the talented engineers of tomorrow to pursue exciting careers in the fields of science, technology, engineering and mathematics ('STEM'). Programs include the c_wonder Maker Truck mobile classroom, professional development for Faculty of Education teacher candidates, summer engineering camps for elementary students, and university student scholarships.
GM's new business will retain 300 Oshawa jobs, with the potential to generate a significant number of additional high-tech jobs in the years ahead.
Quotes
"Ontario Tech University applauds General Motors Canada for its commitment to the City of Oshawa as the company transforms its Oshawa operations into a leading centre for advanced technology vehicle testing. As GM Canada maintains its footprint in the Oshawa community, Ontario Tech University's focus on technology with a conscience, and its institutional capacity as a leader in engineering research, development and education will play an important role in supporting the exciting new R&D activities to unfold in the decades ahead."
-Dr. Steven Murphy, President and Vice-Chancellor, Ontario Tech University
"We're extremely excited about GM Canada's announcement. The strategic geographic proximity of Ontario Tech University's ACE research and development centre will support GM Canada's future advanced vehicle testing operations and strongly aligns with ACE's automotive innovation capabilities."
-Dr. Justin Gammage, Industry Liaison Specialist, Office of the Vice-President, Research and Innovation, Ontario Tech University
Media contact
Bryan Oliver
Communications and Marketing
Ontario Tech University
905.721.8668 ext. 6709
289.928.3653 (mobile)
bryan.oliver@uoit.ca