Ontario Tech University President appointed to help guide National Research Council Canada
Dr. Steven Murphy among six named to review the Council's strategic direction
June 10, 2019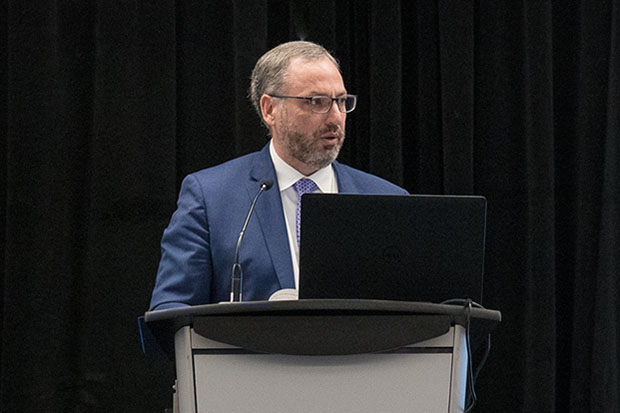 Ontario Tech University has an important new role to play in supporting innovation and economic success in Canada.
Dr. Steven Murphy, President, Ontario Tech University is one of six new appointees to National Research Council Canada (NRC), the Government of Canada's largest science and research organization.
Driving innovation that improves the lives of Canadians requires supporting new ideas and helping researchers, businesses and universities work together to bring them to fruition. The NRC helps achieve this goal by partnering with high-potential small- and medium-sized businesses to bring creative, relevant and sustainable technologies to market that address Canada's current and future economic, social and environmental challenges.
As an NRC Council member, Dr. Murphy will contribute his business and academic leadership experience toward reviewing the strategic direction of the NRC and overseeing the organization's performance.
Quick facts
The NRC conducts a broad range of research, including applied research, in fields such as transportation and manufacturing, engineering and life sciences, and digital and emerging technologies.
Budget 2018 invested an additional $258 million per year in the NRC, of which $150 million is for its Industrial Research Assistance Program (NRC IRAP) to help Canadian businesses innovate and be more competitive in the global marketplace.
Quotes
"At Ontario Tech University we recognize the development of new technological breakthroughs must also include careful consideration of how human interaction with technology enhances quality of life. Our approach to innovation complements National Research Council Canada's mandate to support the development of new technologies that will benefit all Canadians. I look forward to working with the other members of the NRC Council to help the organization achieve its mission and vision."
- Dr. Steven Murphy, President and Vice-Chancellor, Ontario Tech University
"I welcome the new council members and thank them for contributing to Canadian research and innovation. Their strategic guidance will play a role in keeping developments ahead of the curve and ensuring industries continue to improve the lives of Canadians."
- The Honourable Navdeep Bains, Minister of Innovation, Science and Economic Development
"The National Research Council's focus on research excellence plays a key role in generating new ideas and supporting innovation—the kind of innovation that helps our health, environment, communities and economy thrive. I want to welcome the council members and congratulate them on their new positions."
- The Honourable Kirsty Duncan, Minister of Science and Sport