The evidence is clear: Ontario Tech University's Forensic Science program is among the best
Program earns full renewal of prestigious international accreditation
June 28, 2019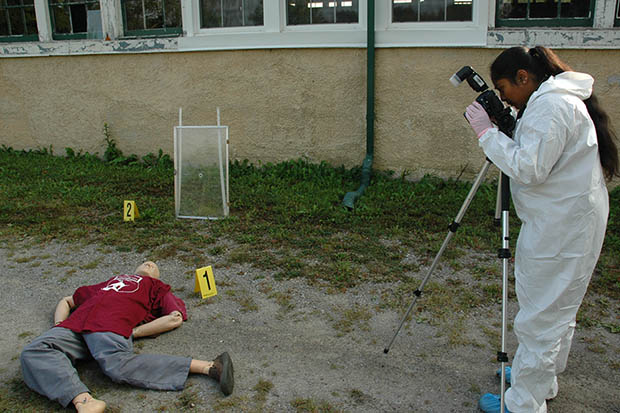 When it comes to accreditation as one of the top Forensic Science programs in North America, the gold standard of endorsement comes from the Colorado-based American Academy of Forensic Sciences' Forensic Education Programs Accreditation Commission (FEPAC).
Among its signature academic programs, Ontario Tech University's Forensic Science program has earned a full five-year renewal of its FEPAC accreditation, a distinction first granted to the university's Faculty of Science in 2014.
"Earning this recognition from FEPAC speaks to the remarkable quality and substance of all that Ontario Tech University offers in the realm of forensics," says Greg Crawford, PhD, Dean, Faculty of Science. "FEPAC accreditation confirms our students graduate with a competitive advantage in the marketplace. They have access to the finest learning infrastructure available, including our Crime Scene House on the Windfields Farm lands. Coupled with our specializations in Forensic Biology, Forensic Chemistry, and Forensic Physics, students have multiple reasons to consider Ontario Tech as the best choice for a Forensic Science education."
Ontario Tech is one of only two Forensic Science programs in Canada with FEPAC accreditation.
"Earning FEPAC's accreditation come after a thorough and rigorous evaluation process," says Hélène LeBlanc, PhD, Associate Professor, Faculty of Science. "It's a huge milestone for everyone connected to our program to be recognized as one of the leading universities for Forensic Science education. This acknowledgment confirms the strong scientific foundation of our programs, the strength of our teaching faculty, and sets the stage for future growth and opportunities, including graduate-level programming."
Ontario Tech University Forensic Science program features:
Integration of tablet computers, specialized software, learning objects and digital single-lens reflex (SLR) cameras.
Hands-on learning opportunities through staged mock crime scenes at Crime Scene House.
Forensic Ecology Facility, used for decomposition and entomological research.
Dedicated Forensic Laboratory for biological and chemical analyses.
Specialized analytical instruments, which students get to use, not just read about.
Focused courses such as Criminalistics, and Forensic Drug Chemistry and Toxicology.
Close connection with industry, including external forensic science laboratories, law enforcement agencies and the legal community.
At the conclusion of each academic year in April, the Faculty of Science stages its annual Forensic Science Research Day, where fourth-year students present their research findings to leading professionals in the field of forensic science.
Gallery
---
Media contact
Bryan Oliver
Communications and Marketing
Ontario Tech University
905.721.8668 ext. 6709
289.928.3653
bryan.oliver@uoit.ca